Julia Wreden (SAR '15) and Harry Meltzer (CAS '14) came up with the idea of putting on a James Taylor showcase while eating mac and cheese and listening to a live performance of "Steamroller." Eight months later, Fire and Rain, a phenomenal song-cycle performance presented by BU on Broadway, hit the stage.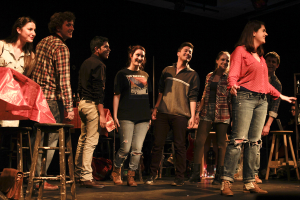 "Last March, we started to sort of conceptualize and get things together, and then started arranging all the music. It's seventeen songs that we arranged basically from scratch," Meltzer, the show's music director, said. "It's something that has kind of built itself and we weren't sure if it was going to work, and it turns out it works really well."
For those who grew up listening to James Taylor — and I suspect there are few millennials who didn't — Fire and Rain probably came at the perfect time, nestled in the short yet intensely academic period between Thanksgiving and Winter break. The performance, which ran on Thursday, Friday, and Saturday of last week, delivered a pang of nostalgia that probably could have only been matched by an unexpected whiff of Grandma's cookies or a particularly adorable #TBT.
Tom Schrank (COM '14), the show's producer, said that Fire and Rain has "a really cool concept" in that it devoid of any obvious plot or script.
"The directors took these James Taylor songs and put them in succession so that they could be told in a more theatrical context," Schrank said. "We like to think of it as 'concert with context:' kind of like a concert of songs but they're all told in kind of a monologue style, so each character tells their own story."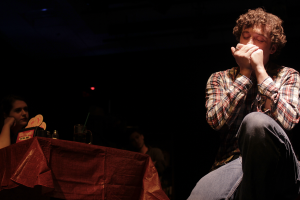 These stories take place on a beautiful set "in a bar, three hours outside of Atlanta, GA," cast member Claire Sutton (COM '14) said, noting that the cast had decided that particular location felt right for the show. Sutton said that each of the eight performers had essentially taken on the responsibility of developing his or her own character, with the concept for each new James Taylor song being driven by those characters.
"If you pay attention to every character, we've all developed certain backstories for ourselves, and each of us go through a journey through the songs and we tell our stories," she said. Sutton's character, for example, sings and dances with a teddy bear and Rodrigo Mendoza-Lee (SED '16) during the show's rendition of "How Sweet It Is." "It's been really cool as an actor to basically invent your character onstage."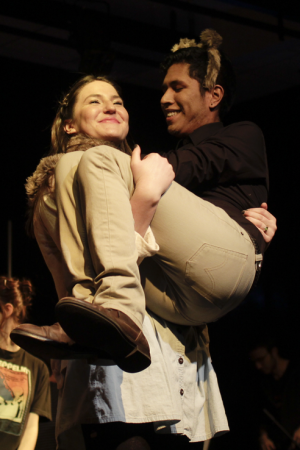 Schrank echoed the Sutton's sentiments about Fire and Rain being a cast-driven performance as much as a song-driven one.
"[Wreden and Meltzer] crafted the songs around each individual person they casted. So the whole process was that they were arranging songs as they were rehearsing other ones," he said. "The finished show… is very much based on the people that are in it."
The musical numbers came one after another with an intermission/audience-wide swing dance party after Olivia Wiles (CAS '17) performed the titular song. The audience saw original performances of "Country Road," "I Feel the Earth Move," "How Sweet It Is (To Be Loved By You)," Traffic Jam," "Highway Song," "Oh, Susannah," "Mockingbird," "Fire and Rain," "Lo and Behold," "Something in the Way She Moves," "Steamroller," "Bartender's Blues," "Everybody Has the Blues," "That Lonesome Road," and "Shower the People."
The songs' arrangements were lovely and often quite different from Taylor's originals. Melancholiness filled Sutton's rendition of "Something in the Way She Moves."  Jordy Shulman (CAS '17) and Tori Mueller (CAS '17) made "Steamroller" very sexy and funny. Jack Moriarty (CAS '14) started "Bartender's Blues" with a somber tone, and then the ensemble transitioned it from sad to hokey to gospel choir-esque in a seamless and entertaining way. Caroline Codd (COM '16) brought an amazing energy to both "Everybody Has the Blues" and "I Feel the Earth Move," and Shane Hennessey's (CAS '14) opening line on "Country Road" set the tone for a fantastic show.
Some well-known songs were notably absent from the showcase — "Sweet Baby James," "Carolina in My Mind," "You've Got a Friend," "You Can Close Your Eyes," and "Your Smiling Face" all come to mind — but a musician who has had his 1976 Greatest Hits album certified Diamond is bound to have a surplus of usable material. Putting the spotlight on some of Taylor's lesser known songs and collaborations with Carole King and others also gave the show a greater depth by straying away from a tribute-band concert format.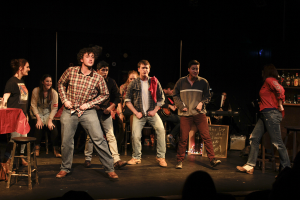 Before Saturday's sold-out final performance, Wreden said she didn't know if it was going to work out but she's very pleased with how it has turned out.
"It's come so far from where we originally started, which was just sort of scratching down ideas on a piece of paper and trying to get it down and making sense, so at this point we're just ecstatic about what it's become," Wreden said. "It's a really enjoyable time for the cast and hopefully the audience as well."
The showcase's familiarity and homeyness served as the perfect reminder of why we all can't wait to get back for some much-needed family time. So finish up your finals quickly and take a plane, train, bus, or car to get home — or use Taylor's preferred mode of transportation and "walk on down, walk on down, walk on down, walk on down, walk on down a country rooooooad… la la la la la la la la la la la la…"