Fresh off their performance at the Night of BU A Cappella on Friday, the Boston University Dear Abbeys hosted the fifth annual Men Being Manly showcase Saturday night in Tsai Performance Center.
If you've never been to a Men Being Manly show before, you're missing out.
Although the show is advertised as "extreme displays of manly behavior, which may not be suitable for the faint of heart," it's really just a night of fantastic singing from some of the Northeast's best (and yes, manliest) all-male a cappella groups.
This year, the show brought the Jabberwocks of Brown University into the bromance between the Abbeys and the Tufts University Beelzebubs. All three groups were dressed to impress in ties and button-downs, with more than a few pairs of tight dress pants (no one was complaining, I assure you) topped off by Jabberwock blazers and Beelzebub suit jackets.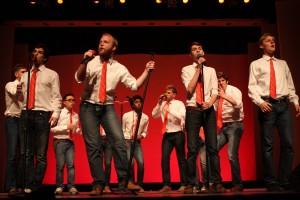 The night was set up so that each group performed two sets. The groups sang a mix of contemporary and older music, and more often that not, had super manly dance moves to go along with their singing.
The Dear Abbeys opened and closed the show. Their first song, a mashup of Britney Spears' "Toxic" and "Hold it Against Me" (watch the music video here) had soloist Benji Hadar (SMG '16) swiveling his hips in the most masculine of ways. Their version of Amy Winehouse's "Valerie" was also nothing but manly, as soloist Nicholas Griggs-Drane (COM '16) hit notes way, way down in his lower register.
Regardless of their masculinity, the Abbeys' harmonies were the most memorable part of their performances. The four-part harmony in their closing song, Muse's "Uprising," and the three-part harmony in The Red Hot Chili Peppers' "By The Way" were both absolutely fantastic.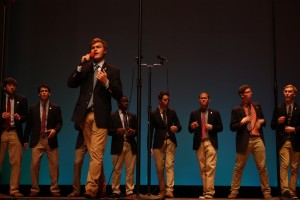 Following the Abbeys were the Jabberwocks. They oozed Ivy-League charm (who doesn't love a man in a blazer?) even as they busted into Kanye's "All of the Lights" and the original Spiderman theme song.
The Jabbs, who are apparently so manly that they "even kind of smell like that Old Spice guy," were polished and choreographed the entire night. The mic hand-offs during their version of The Nylons' "Me and the Boys" were smooth and the poses during Nina Simone's "Feeling Good" were appropriately dramatic. Their strongest suits, however, were their ensemble sound (their cover of JT's "Mirrors" was basically flawless) and their vocal percussion, with lead vocal percussionist Vitto DiVaio (Brown '14) absolutely killing it as a beatboxer.
Last but not least, we had the Beelzebubs. You've probably heard the Bubs before; in 2009, the Beelzebubs finished second in the NBC a cappella competition The Sing-Off, and currently provide the vocals for the Dalton Academy Warblers on Glee.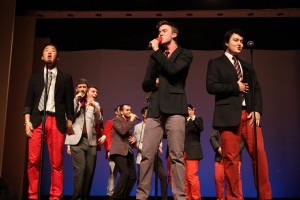 Saturday, the Bubs were absolutely adorkable in red, white, and black. They were energetic and happy to be at BU; "This is like, our favorite gig of the year," they told the crowd. "We're having SO much fun." Their enthusiasm definitely carried through into their songs: their cover of Cake's "Love You Madly" was super jazzy and vaguely seductive (shout out to Justin Sullivan for rocking his first solo!) and their cover of Miley's "Wrecking Ball" was surprisingly touching.
However, the Bubs had a couple more surprises in store. They won the crowd over by wishing everyone a happy national cat week and then launching into Enrique Iglesias' "Bailamos," complete with full-scale salsa choreography (because nothing says manly like flamenco dancing). For a group of guys who "like to sing, but love to twerk," we shouldn't have expected anything less.
But no matter how macho the men might have been, at the end of the night, Men Being Manly was all about just having fun with friends.
"There's just something about all-men's college a cappella that's so great," said Bubs freshman Justin Sullivan (Tufts '17). "It's a community. It's a brotherhood."
Want more manly a cappella? Look for the Dear Abbeys, the Jabberwocks, and the Beelzebubs on iTunes, Facebook, and Twitter!