It seems that Dan Harmon's return to Community, which premieres on January 2nd on NBC, will either re-energize the show or push it further up its own insular comedy nerd path until it's not even recognizable anymore. The show's problematic 4th season under showrunners Moses Port and David Guriasco caused many of the show's rabid fans to jump ship.
But perhaps in an attempt to win back those comedy nerd fans who were upset over the fourth season, Harmon and company have compiled a litany of guest stars that would appeal to anybody who follows comedy. Most recently, David Cross (insert Tobias Funke joke here) has agreed to guest on the show's 5th season. Cross joins a huge list of guest stars cherry picked for their own nerd-cred.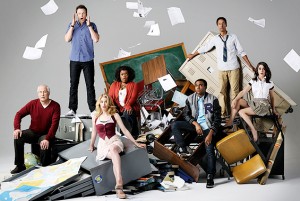 Community's season 5 list of guest stars includes: Cross, Jonathan Banks (Breaking Bad, Parks and Rec), Arrested Development creator Mitch Hurwitz, Paul Williams (The Muppets), Breaking Bad creator Vince Gilligan, Justified star Walton Goggins, Joss Whedon-regular Nathan Fillion, Robert Patrick, Paget Brewster, Rob Corddry (Children's Hospital), Brie Larson, LeVar Burton (yup), Kumail Nanjiani, Katie Leclerc, Ben Folds, Tim Heidecker, and Eric Wareheim. That's a killer comedic lineup of guest stars.
The question now becomes how well the show will use them. Will Community pepper in its big guest stars and work them into the story of the season or simply lean on stunt casting to gain viewers? The Harmon era of Community wasn't without its flaws, but there's reason to be optimistic here. For the show, there's nowhere to go but up, and Harmon has never seemed the kind of showrunner to lean on stunt casting for his stories to work. If you're a Community fan, there's a lot working towards a strong 5th season and a return to form for what was once one of the best comedies on TV.
Community returns January 2nd on NBC.