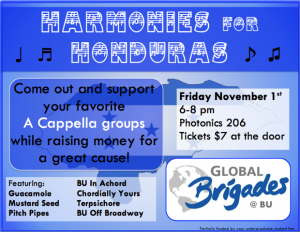 On Friday night, Global Medical Brigade hosted the 7th annual Harmonies for Honduras concert in the Photonics building.
Every year, GMB takes a trip to Honduras to hand out medical supplies to impoverished communities. Harmonies for Honduras is one of their annual fundraisers; admission to the concert is $7, with all proceeds going toward the trip to Honduras.
GMB also holds a "Penny War" at the concert, where the crowd can vote for their favorite performer or group by putting pennies in the performers' box. The crowd can sabotage other groups by putting silver coins or dollars into their boxes. At the end of the night, whoever has the most pennies wins.
This year, the concert featured seven groups and one solo artist. Around seventy people showed up to watch BU a cappella groups In Achord, Chordially Yours, BU Off Broadway, Terpsichore, and Mustard Seed perform two or three songs. BU senior Nicky Gosselin played guitar and sang. Two a cappella groups from nearby Lexington High School, The Pitch Pipes and Guacamole, also performed.
In the past, Harmonies for Honduras has featured student groups from Boston College and Berklee College of Music.
Standout performances from Friday were Terpsichore's cover of "Crazy" by Gnarls Barkley and Chordially Yours' cover of "Dancing on My Own" by Robyn. Nicky Gosselin also wowed the crowd with a cover of The Hush Sound's "The Artist," which she said she has been performing since she was in high school.
However, the big hit of the night was Lexington High School's Pitch Pipes. The all-male group made the crowd laugh by throwing Kanye lyrics into their medley of Coldplay songs. Their mash-up of Mumford and Sons' "The Cave" and "Little Lion Man" was also a crowd favorite.
At the end of the night, GMB's fundraising chairs came out to announce that the event raised $590 for their upcoming trip to Honduras. They also announced that Mustard Seed had won the Penny War, defeating reigning champ Chordially Yours.
Global Medical Brigade's next trip to Honduras is in January. For more information, check out their Facebook page.