"A lot of Americans right now think that Ireland is packed cottages, leprechauns, back roads," Michael Swan told me with a shrug. Michael, a security guard at Kilachand Hall, is from Dublin, Ireland. "But you can cross all of Ireland on a main highway. Traffic, like every other country, is very congested." As with everything he says, I felt myself drawn to Michael's storytelling. Maybe it's the friendly tilt to the end of his words or the sincerity in his tone, but I love speaking to Michael when I walk in and out of the building on Monday and Tuesday mornings.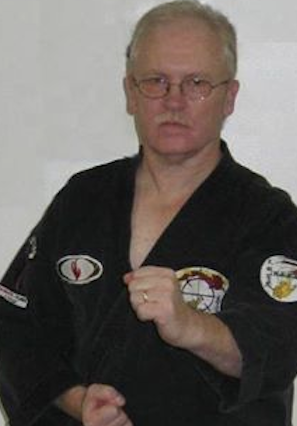 He came to the U.S. for the first time in 1989 after a year of marriage to his wife, Rita. Upon arriving, the two of them worked in Hartford, Connecticut for a year. "We were here legally and we liked it. The people we worked for were very affable people–they said they'd get us visas and stuff, but it turned out they were just draggin' it on," he told me. "We liked it and didn't want to screw up our chances of being here legally, so we left." Together they applied to come back with work visas through a lottery system and came back within a year. He worked as a security guard at the Parker House Hotel and then managed a Woolworth's for three years before coming to BU.
"Everybody's still there in Dublin," Michael said of his family. His parents and two of his brothers have passed away, but he still has three brothers and three sisters living there. "That can be very hard at times. My kids didn't have anybody around but us two growing up. I guess that's part of the choice you make when you immigrate," he postulated.
Michael and Rita have two children, Craig and Julie, who are now 28 and 25, respectively. Craig is an artist; "He sculpts, paints, draws, plays guitar, and writes songs." Julie is an elementary school teacher who is also trained in photography. When I asked Michael where the artistic genes came from, he said, "I'm okay at doing stuff. I play a little guitar. My wife used to sketch and stuff when we first met." His uncle drew maps for the army, and his grandfather was a musician as well, so he thought that might be where they got it.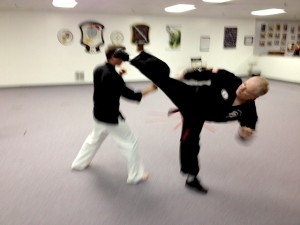 Michael also enjoys martial arts. He received his black belt in American Kenpo back in Ireland. He still practices the art here and helped start the New England American Kenpo Association. Michael told me of his old karate coach and the most influential person in his life, Ed Parker. "A very famous guy–good friend to Elvis Presley, too. So my claim to fame is that I had the same karate teacher that Elvis had," he chuckled, before launching into an equally fascinating story about another friend named Huk Planas who turned away a thank-you gift from Elvis without realizing it. (I won't try to tell the story. Get him to tell you. It's worth your time.)
Continuing, Michael told me that Ed Parker was also, "One of the baddies in the old Pink Panther movies, [but] you never see his name on the screen. [Ed's] joke was 'if they put my name up there, I'd have to pay taxes on it,'" Michael laughed. "He was an amazing man. A very good coach, because he wanted you to think for yourself. Always opened your mind; everything was logic with him."
It makes sense, then, that Michael's advice for college students is this: "You can have a PhD in neuroscience, what the moon's made of, whatever–but if you don't have common sense, you really have nothing. Don't put yourself on a pedestal. Drop yourself down. Be in the world."
What's the Story? is an attempt to tell the stories of various BU faculty and staff and shed light on their lives. Have someone whose story you'd like to hear? Send me a note: cweddell@buquad.com. See more What's the Story? profiles here.