A few minutes into the first episode of AMC's Low Winter Sun, shady cop Joe (Lennie James) is convincing fellow cop Frank (Mark Strong) to help him to kill dirty cop Brendan, whom Joe accuses of killing Frank's girl. Frank is initially skeptical of this plan, until Joe makes a point about morality that no television antihero has ever before put so bluntly. "Folks talk about morality like it's black and white … but do you know what it really is? It's a damn strobe, flashing back and forth and back and forth all the time. So all we can do is figure out how to see straight enough to keep from getting our heads bashed in."
By having this quote serve as the thematic foundation for the series, Low Winter Sun makes its fatal mistake before the first commercial break even hits—it presents itself as one of the first antihero dramas that blatantly tries to market itself as an antihero drama at the cost of the one major factor that has driven so many similar dramas to success: quality storytelling.
The Quad's own Adrian Burke argues in his feature article "Breaking Bad and Antiheroes" that Breaking Bad may just spell the end of television's antihero era. Given Low Winter Sun's approach to the genre, I'm inclined to agree. Despite AMC's desperate attempts to market the show as another great antihero epic, few believed it, and fewer watched it. Critical reviews tore it apart. Viewers of Breaking Bad's final stretch of episodes, who were the most exposed of anyone to Sun's promotional content, were either annoyed by it or laughed at it. It became the butt of many jokes similar to the title of this article.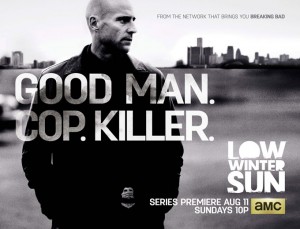 Much of the show's lack of success could arguably have been due to its airtime: Sunday nights at 10:00 p.m. EST, directly following Breaking Bad. Following after a critically acclaimed ratings success is usually good for a new television show, as it helps to build viewership and a strong fan base. However, the great disparity in quality between these two shows might have made Sun's placement on AMC's Sunday night schedule another fatal blow to the show's success.
Nonetheless, it is that inherent disparity in quality that sets Sun far below Breaking Bad and many other great dramas on the scale of television's antihero era. It almost seems like the writers of Sun thought that they could get away with breaking the basic rules of storytelling simply because they were an antihero drama and EVERYONE loves antihero dramas these days. What made very similar shows like The Shield so successful, though, was that they were raising the bar for quality storytelling in television by introducing moral dilemmas for leading characters, rather than using a lead character's recognition of moral ambiguity as a tool to escape the basic need to tell a good story.
At the end of The Shield's pilot episode, lead character and cop Vic Mackey (Michael Chiklis) shoots and kills a fellow cop in order to protect his strike team from being exposed for their ethically questionable use of their police power on LA's streets. Although this horrible action in of itself presents Mackey as an antihero, the murder is only depicted after we're shown how Mackey's strike team might just be keeping the streets of LA far safer by bending the law here and there. This fairly complex moral dilemma allows us to identify with Mackey, a character who clearly has a moral code that can serve as a silver lining for his darker side.
Sun doesn't give audiences the chance to identify with lead character Frank. As if Joe's absurdly self-realized speech about moral ambiguity is enough to convince him, Frank helps Joe to kill dirty cop Brendan within the first five minutes of the pilot. The rest of the episode has Frank realizing that Joe might be a dirtier cop than he thought, and that he might've helped to kill Brendan for all of the wrong reasons. Sure, this shows that Frank has a moral code, but if he didn't choose to kill Brendan on his own, if he was only tricked into it, then where's the moral dilemma in his character? There isn't one, and aside from some vague flashbacks involving his love interest who may still be alive, we know nothing else about Frank. Thus, we don't care about Frank.
Unfortunately, the rest of Low Winter Sun's first season is unable to make up for the first episode's fatal mistake: stripping the main antihero of his driving moral dilemma and therefore his identifiable conflict as a character. If we don't care about the main character, we can't care about the story. Without a good story, it doesn't matter how much AMC claims that this show is its next big antihero drama—nobody will watch it.
Unlike Frank, viewers seem not to be as easily tricked by things that appear to be better than they really are.