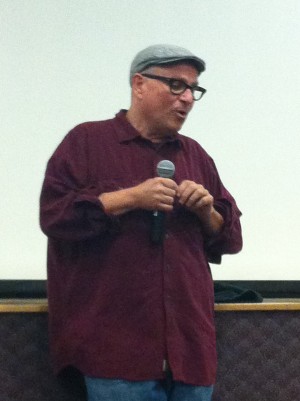 On Friday night, the College of Communication held its second Cinematheque event of the semester with comedian-turned-filmmaker Bobcat Goldthwait and a screening of his latest feature, Willow Creek.
The event began just after 7 o' clock with an introduction of Goldthwait by Gerald Peary, film critic and curator of Cinematheque, the Film and Television Department's spotlight series on filmmakers and their latest works.
Peary informed the audience that, although best known for his unbelievably energetic and practically possessed persona, as seen in films like Scrooged and the Police Academy series, Goldthwait has moved behind the camera in recent years. As a writer-director, he has transferred his trademark humor to low-budget indie films like God Bless America and World's Greatest Dad, which use the blackest comedy to convey the most human of experiences.
Afterwhich, Goldthwait came out and briefly set up his latest film, a low-budget horror-comedy done in the found footage style. Joking about his observations on Hollywood's recent trend of found footage films ("Who are the creeps who are supposedly re-editing this footage?"), he revealed how Willow Creek reflects both these critiques and his longtime love for the mythological Bigfoot.
Willow Creek follows fictitious couple Jim and Kelly via their home video footage as they venture to Willow Creek, California — the Bigfoot capital of the world — to personally explore the lore surrounding the creature….and hopefully find the creature itself.
Though frequently comedic, Willow Creek proves to deliver on the scare, as made evident by the audience's numerous shrieks and jumps. Goldthwait ventures to new ground with this horror angle. But with the lengths to which the film goes to in its naturalism and authenticity, Goldthwait's horror-comedy emerges as an impressive take on a tired genre. And despite a plague of projection difficulties during the screening, the concluding applause indicated the audience felt similarly.
In the post-show audience Q&A, Goldthwait elaborated on what inspired him to make the film. In addition to a childhood fascination with the controversial Patterson-Gimlin footage, he stated he wanted to see if he could make a suspenseful film with little action, like Quentin Tarantino has been able to do.
"I'm pretty good with making people laugh but I didn't know if I could creep them out for a long while," he said.
Judging by the audience's reaction, it seems that he did indeed.
And it seems that there are more refreshing successes on the horizon, as Goldthwait said later, "If I'm lucky enough to keep making movies, I want to keep making different kinds of movies."
The Cinematheque events are held in COM Room 101 at 7 PM on select Fridays. For a list of this semester's scheduled guests, visit the series' website.