What ON EARTH is Krav Maga?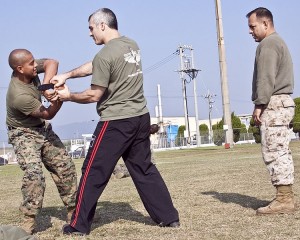 I'm glad you asked! Krav Maga, a Hebrew phrase that literally means "contact combat," is a relatively new style of martial arts that has become popular (well, relatively popular—it's a martial art after all, not a Frank Ocean album) in the US within the last decade or so. Krav Maga can be distinguished from other forms of martial arts in that it emphasizes instinctive movements, practical techniques, and realistic scenarios over brute strength, choreographed fighting, and competition. At the same time, many elements of Krav Maga (in particular, many of the physical maneuvers it involves) do draw from more traditional martial art forms. The combination of modern practicality and old-school technique makes for a martial art discipline both aesthetically appealing and useful for us modern folk who don't like feeling defenseless.
The story behind Krav Maga is pretty cool.  Slovak-Israel martial artist Imi Lichtenfeld developed Krav Maga in the 1930s as a means for Bratisalvian Jews to defend themselves against the city's many anti-Semitic thugs. The technique was successful, and about ten years later the Haganah (an organization that protected Jews moving to Palestine of which Lichtenfeld was a high-ranking member) adopted Krav Maga as part of its training regime. When Israel became an official state in 1948, Lichtenfeld was made Chief Instructor of Fitness for the Israeli Defense Force. He saw to it that Krav Maga was kept as part of the IDF training program. Today, IDF soldiers still must study Krav Maga as an integral part of their combat training.
Much in the way that driving Fiats, watching Hayao Miazaki films, and wearing harem pants feed our American desire to do foreign stuff, so too does practicing Krav Maga, which (along with our obsession for funky new workouts RE: Zumba) can probably account for its growing popularity here in the states. Yet, learning self-defense certainly isn't a frivolous pursuit, especially for people living in an urban environment with many creepy dark alleys, and Brookline.
That's why it is so awesome that the BU Hillel offers free Krav Maga classes every Tuesday night from 7:30 to 8:30 pm in their third floor kosher dining room. Last night, I decided to try one out for you guys.  It was—and, keep in mind, I'm a tough customer—fantastic. Instructed by the hilariously vulgar and impressively spry Rabbi Michael Beyo (seriously, this guy is phenomenal and alone could make the class worth showing up for), each class focuses on a different cluster of attack scenarios that one might encounter in a city and the best ways to handle them.
Last night, the focus was knife attacks. The main activity consisted of the group (there were about nine of us in attendance) pairing up and taking turns "mugging" each other with rubber knifes. Rabbi Beyo, who grew up fighting-off his own anti-Semitic thugs in Italy, is an expert at street combat and saw to it that we were dismantling our attackers with correct Krav Maga form. I was surprised by how intense some of the feigned attacks got, and at points the class felt more like a Hillel Fight Club than a safety course.
So guys, consider going to one or two of these Krav Maga classes. Though you'd probably rather spend a Tuesday night watching Girls and eating smoked Gouda in bed, you definitely won't regret picking up some self-defense skills should the time ever come (KNOCK ON WOOD) that you need some. And, for those of you funky workout fiends, you look much cooler at a Krav Maga class than you do at Zumba, I promise.
For the Hillel's Krav Maga class schedule, please visit  http://www.bu.edu/hillel/student/cjle.html. Waivers for the class must be signed beforehand and can be acquired by contacting Jen Gutman at jrgutman@bu.edu.