In July 2011, Aaron Swartz was indicted by a federal grand jury for allegedly downloading millions of documents from JSTOR. On September 24, 2012, he pleaded not guilty to these charges in court. Last month, on January 11, he committed suicide. And while there is no way to know to what extent the charges affected his choice to end his life, his death forced a discussion about hacking into the public spotlight at just the right time.
Aaron Swartz was well known in the technology community for his contributions and his activism. At age 14, he was a co-author of the RSS 1.0 specification, a now-popular web feed format used for standardized publishing of blogs, news and other regular posts. After dropping out of Stanford University, Swartz started a wiki platform company called Infogami, which later merged with the well-known social news website Reddit. He was involved in the foundations of many other projects, including the Progressive Change Campaign Committee, watchdog.net, Open Library and Jottit.
Also an avid activist, Swartz helped lead the protest against the Stop Online Piracy Act (SOPA) initiative that threatened Internet freedom through Demand Progress, an online advocacy group he co-founded, dedicated to making "progressive policy changes for ordinary people through organizing and grassroots lobbying" in the areas of  "civil liberties, civil rights, and government reform." Posthumously, Swartz was said to be a possible contributor to WikiLeaks, the organization committed to free information that distributions anonymously-contributed leaks to the public.
The indictment that sent him into the wider public view accused him of stealing over 4 million documents from JSTOR through the MIT network. He was accused of "entering the restricted basement network wiring closet to replace an external hard drive attached to his computer" and several days later returning to retrieve the drive. It was stated that he "attempted to evade identification at the entrance to the restricted area" by "masking his face with a bicycle helmet." Demand Progress Executive Director David Segal said that "the alleged victim has settled any claims against Aaron… and asked the government not to prosecute." He also likened the crime to "[putting] someone in jail for allegedly checking too many books out of the library."
If convicted, Swartz could have faced tens of years in prisons and a million or more dollars in fines. Critics and fellow Internet freedom advocates say that the punishment facing Swartz was far too severe, and they worried that the court was making an example out of him. With his potential involvement in WikiLeaks and his known opposition to SOPA, several House Oversight and Government Reform Committee members have expressed their concern that his activism may have colored the court's decision to seek such drastic punishment.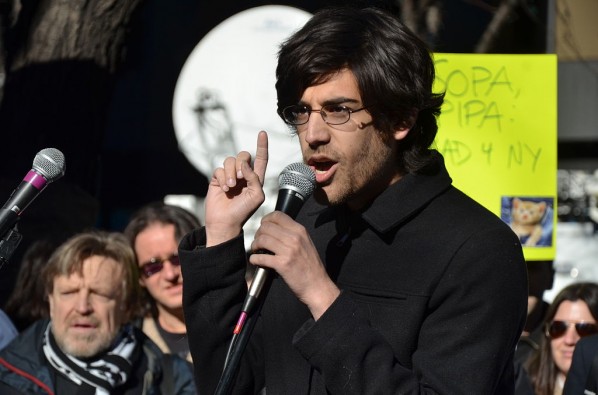 Since Swartz's suicide, many fellow hackers have stood up to say that they too could have ended up in his position, had the circumstances been slightly different. Nick Bilton, on his New York Times blog Bits, said that although he didn't consider himself a hacker, the line between criminal activity and innovative Internet use was becoming thinner and thinner. Bilton had done things like "downloading free online scripts that could trace people's whereabouts or scraping Web sites in search of music that didn't belong to [him]," things that could have "been labeled as [hacking] by our outdated justice system." Bilton had been covering the case of Daniel Spitler, a 26-year-old being charged with breaching AT&T servers while trying to expose a security hole in their system. While there are hackers like "a vandal who renders a Web site inoperable or a thief who profits from stolen passwords and credit card numbers," there are also those like himself or Spitler, says Bilton, who don't have criminal intentions.
Still others have stood up in support of Swartz, like Andrew Auernheimer, a self-proclaimed "Internet troll" who expressed similar sentiments on TechCrunch. Much like Spitler, Auernheimer found that AT&T was publishing the names of iPad owners on the open Internet, and he found this troubling. After attempting to contact AT&T to fix the security hole to no avail, he took what he discovered to Gawker. For attempting to fix an injustice, he was convicted of "two consecutive five-year felonies" and is now awaiting his sentence. Auernheimer says that now that "feds" have ruined his life, his business and prevented him "from touching any computer that isn't federally monitored," he is happy to be hitting a prison cell soon. Auernheimer imagines that the same forces driving him to look forward to prison are similar to the "beast" that pushed Swartz to the edge.
Friends, co-workers and admirers from all over the Internet have spoken up in support of Swartz's talents and dedication to the craft. It remains to be seen, however, if his legacy will have a lasting effect on Internet freedom. Just last week, the White House announced a "National Day of Civic Hacking," and invited hackers to "liberate open data." By making tools to gather or analyze data in existing ways, the government hopes it can put its "meticulously-compiled facts and figures…to good use." Critics worry that the event is for publicity and doesn't show any real effort to recognize Internet freedom, but acknowledgment of the issue is a start.
Also in response to Swartz's suicide in the mainstream media, Facebook is now providing data to researchers hoping to identify suicide victims from the warning signs on their web pages. Researchers at SAVE, a suicide prevention organization, hope to identify patterns in users that suggest their risk for suicide and alert someone to step in before it is too late. The House panel mentioned above has criticized the fraud laws over which Swartz was indicted, and Democratic Rep. Zoe Lofgren has penned "Aaron's Law," which aims to bring the 1984 laws into the current era.
While Swartz's suicide has brought his dedication to Internet freedom into the national spotlight, there are still important decisions to be made. Especially with others in the industry speaking up to share their similar stories, it is clear that what the government considers criminal activity is viewed by the community as "hacking" in the original sense of the term, "exploring the details of programmable systems and stretching their capabilities." Whether through outdated laws or a lack of understanding about the Internet and its culture, current laws are mixing up "those who have not sought financial gain with armed robbers," says Bilton.
Swartz dedicated much of his life to Internet freedom. Whether his actions were devious enough to warrant a lifetime in jail and millions of dollars in fines is unclear. Vague laws call him a criminal of a high degree, but countless people, everyone from fellow hackers to members of government, have agreed that the issue is more subtle. Since this time a year ago, when SOPA was on its way towards becoming law, the Internet community has felt its domain is under attack. It's unclear whether the government will reevaluate the severity of their methods after the suicide of such a well-liked figure, but many Internet activists, following Swartz's legacy, are dedicated to making sure that the necessary steps are taken.