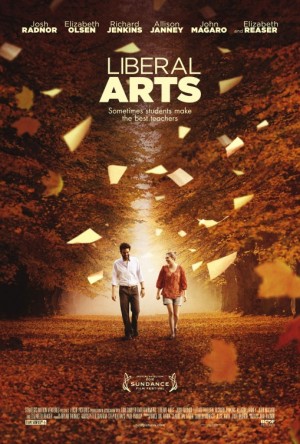 The very first Sundance London Film Festival took place April 26-29. It showcased 14 movies shown at the flagship Sundance Festival in Utah back in January, combining screenings with concerts and talks from directors and industry insiders.
Sundance movies have a distinct style. They usually feature a mopey, attractive main character looking for himself/herself in some sort of quirky locale. Sure, many movies defy this stereotype (see: Pulp Fiction), but Josh Radnor's Liberal Arts is a quintessential "Sundance" movie in almost every way—and it's one of the better ones, at that.
The story revolves around Jesse Fischer (Josh Radnor—Ted in How I Met Your Mother—who also wrote and directed the movie), a Brooklyn-based college admissions counselor. He gets a chance to go back to his alma mater in Ohio (at a school that is all but blatantly called "Oberlin") to attend his favorite professor's (Richard Jenkins) retirement party. There, he realizes that he never grew out of college and gets a thing for a wily undergrad named Zibby (Elizabeth Olsen).
Sounds simple enough, right? But the beauty in Liberal Arts is how close to Radnor's heart the story is. He's not the best actor, and as he serves as the director there's really no one to hone his emotions, but he has enough feeling, charm, and wit to carry the movie. He even makes the 16-year age gap between himself and Zibby seem not that creepy. There is, however, one dreadful montage of back-and-forth love letters. It starts being possibly ironic and funny, but quickly falls into cliché and almost painful. (It's almost as disorienting as ZAC EFRON's cameo. I could tell you what sort of character he plays…but that would ruin the fun.)
Liberal Arts's main theme is the desire to never grow up. Professor Hoberg desperately wants to be un-retired, Jesse desperately wants to return to school, and yet Zibby wants to be mature—despite her love for a Twilight-esque book series called "Lunar Moon" (and its hinted sequel, "Solar Sun"). It certainly tugs at heartstrings, especially those of graduating seniors who cannot believe that college is already over and just want to stay.
Liberal Arts is a heartfelt comedy with a great cast and a plot to break down any current undergrad with a soul. It is cute without being schmaltzy (most of the time), and puts a new spin on the "attractive sad boy meets attractive sad girl" story. B+