It would be a mistake to expect anything but ridiculousness from this weekend's ROFLCon, the third in a series of Internet conferences held at the Massachusetts Institute of Technology. Because what else can you expect of an event whose roster includes appearances by all the Internet's silliest accidental-superstars, like Chuck Testa, Double-Rainbow Guy and the inescapable Antoine Dodson?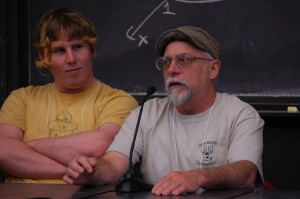 So it might be a surprise to note that overall, the conference tended to take itself a bit seriously. Some might say, too seriously.
For the uninitiated, ROFLCon was a two-day conference that celebrated, discussed and deconstructed Internet culture. It featured panels, demonstrations, and special guests–familiar faces of Internet superstars, (like this guy, this guy, and this lady) or the unfamiliar faces behind the familiar usernames of movers and shakers behind the web, like Ben Huh, Chris Poole and Alexis Ohanian.
Panels seemed to fall into three categories: there were those that approached light-hearted material in a light-hearted manner, those that approached light-hearted material in a serious manner, and those that approached serious material in a serious manner.
In the first category were panels like Drunk Vegan Black Metal Scanwich Chef and Super Art Fight–lively, delicious and hilarious demonstrations of cooking and competitive art, respectively. Neil Cicierega (the guy who made Potter Puppet Pals and other amazing viral nonsense) carried his solo panel by simply being his funny self. And Craig Allen, the creative mind behind the Old Spice Commercials was expectedly hilarious, and improved everyone's day by Skyping in Isaiah Mustafa to answer our questions and while a cardboard cutout bikini-Leia stared us down in the background.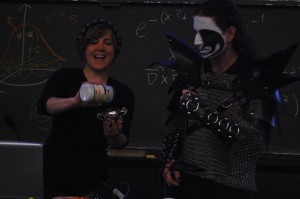 Panels like this brought to life the silliness and fun that the Internet truly can be. Drunk people trying to cook is funny, and so is a guy cooking vegan food to death metal by candlelight. Watching comic book artists drawing Rowlf the Dog slip into wild-eyed insanity, doubly so.
Less successful panels took the same silly concepts–memes, jokes and silly videos–and tried to discuss them in an academic or serious way. For instance, "The Distant Future, the Year 2000" discussed old-school Internet classics like ZomboCom (a Kafkaesque Internet limbo nightmare characterized by an unending loading page, a bizarre welcome message and elevator music) Eric Conveys an Emotion and that dang Badger song. Somehow, the panel fell flat, despite having the owner of Zomboco and the eponymous Eric himself. Even Mr. Weebl, aka Jonti Picking–the most famous of the bunch, as he's created new classics like Kenya–made an appearance. The goal of the panel was to discuss how Internet culture has changed, but this was better discussed in later panels. Still, hearing Mr. Weebl preform Kenya live was pretty worth the trip.
Saturday's "Metameme" panel, designed to talk about the way a meme travels, mutates and morphs over time seemed to take itself too seriously as well. Lindsey Weber of Buzzfeed, Christopher Price of Tumblr and the two guys who made Shit Girls Say all tried to discuss the way recent memes have change over time. But everyone, audience and panelists alike, seemed to be having most fun when we were watching the videos and looking at pictures. So it would be at an Internet convention.
Too Big to Know, a panel that was basically about "reading the matrix" of larger sites (YouTube, Reddit and Imgur) might have met the same fate, but David Weinberger of Berkman Center for Internet and Society was an impressive moderator who kept the questions and the momentum of the conversation moving along.
That's not to say that none of the serious or quasi-academic panels were successful. Saturday morning's "Supercuts" panel brought together the creators of videos like this, this and this. The three panelists came to talk about their movies, but the conversation covered reality television, presidential politics, cinematic tropes, editing techniques, cinematic rhythm, and the very nature of humanity. It ended in the premiere of Duncan Robson's supercut, Three Point Landing.
Later in the afternoon, Chris Poole (also known as moot, also known as the founder of the notorious and beloved 4chan) used his panel to discuss the trajectory of the Internet community as he knew it. He used the hour as an open discussion with the audience about what an Internet community could be in an age of Facebook, while members of the audience shared experiences from the good ol' days of relay chat, message boards and Geocities.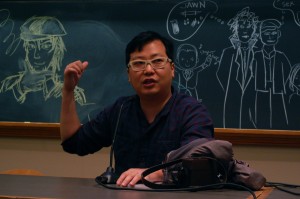 Not long after Poole, Ben Huh, CEO of Cheezburger Network, took the stage. He clearly intended to discuss intellectual property rights in the age of online creative remixes of images, music and video. But members of his audience had other plans, and Huh's panel was interrupted. Cheezburger has long drawn criticism for its policy of adding its own watermark to all images posted on the site, particularly by users who feel that their content has been stolen. At least two of those users were very vocal and present, and both were asked to leave the room.
The end of the weekend culminated with one final panel, the topic of which was Internet freedom. Alexis Ohanian of Reddit, Tiff Cheng of Fight For The Future, Derek Slater of Google and Elizabeth Stark of Stanford discussed the task of "Defensing the Internet" against legislation like SOPA and PIPA. The panelists discussed the need for education and action on the part of voters looking to protect the Internet from heavy-handed intervention. There was more than one standing ovation during the course of the panel. Even Tron Guy, a Tea Party conservative, made an appearance.
It is hard to take too seriously a conference in which the phrase "Tron Guy made an appearance" carries gravitas. But ROFLCon deserved the seriousness some of the time. Because memes are fun, and so are pictures of cats, and so is getting free drinks at an after-party with the real-life  Scumbag Steve. But less fun is the threat of a Congress that knows nothing about the Internet passing legislation on the Internet.
This ROFLCon was the last, at least for a while: the creators have announced that ROFLCon III sounds like a good one on which to end. But ROFLCon IV is not out of the question down the line, and is certainly not something to rule out just yet. And who knows what ridiculous memes we might have by 2017?