Tim Heidecker and Eric Wareheim may be two of the funniest comedians working today. Since the early 2000s, the Los Angeles duo has amassed a devoted following for a series of offbeat programs like "Tom Goes to the Mayor," "Tim and Eric Nite Live!" and, most notoriously, "Tim and Eric Awesome Show, Great Job!" Their unmistakable brand of humor — which often involves sending up public-access television, exploiting tacky visual effects, exaggerating noises, and defying any sort of logic — has become a new force in popular culture, most recently swan diving its way into advertisements for Old Spice deodorant.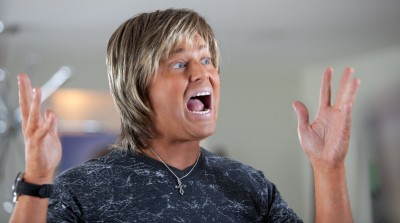 "Tim and Eric's Billion Dollar Movie" is the duo's deranged, outrageous, and altogether awkward foray into feature-length film. Heidecker and Wareheim play versions of themselves that have been granted $1 billion by the "Schlaaang Corp." to make a film. When the financiers learn that the production can't afford to span longer than four minutes due to other expenses like diamond suits and spiritual guidance from the guru Jim Joe (Zach Galafianakis), Tim and Eric must escape vengeful Hollywood executives while trying to earn back the misspent cash. They do so by taking the administrative reins of a struggling mall in "S'Wallow Valley" from its seedy owner (Will Ferrell).
It's an amusing premise, but the proceeding fiasco is surprisingly mundane. Hunting wolves, stealing children, slicing throats, hosing down vagrants, delivering corporate presentations, taking "brown baths," and finding true love is somewhat bland in comparison to Tim and Eric's television material. Cameos from Galifianakis, Ferrell, John C. Reilly, and Will Forte are unexceptional. Jokes feel scripted. The movie seems cramped by its own story and genre.
In the "Awesome Show" world, much of the humor comes from the presentation: a ludicrously drawn-out transition, a freeze-frame of a face mid-sneeze, a poorly delivered line reinforced with subtitles. It's this calculated shoddiness surrounding the Tim and Eric universe that makes its absurd content so funny. But when strung out over a feature film, even the more bizarre elements of "Billion Dollar Movie" fall flat. Hackneyed tropes (poop jokes, weird voices, wacky names) might be good if they were packaged in their usual camp, detached style. But, unlike in "Awesome Show," shoddiness isn't immediately part of the joke.
That's not to say the film isn't funny in parts. The opening sequence, for instance, had me in stitches — a man named Chef Goldblum (played with hilarious repose by Jeff Goldblum), explains to audience members how to use their "Schlaaang Super Seat" in preparation for the following feature. The chair, he says, optimizes a user's viewing experience through odorous vapors, widely spread foot stirrups, a handy built-in popcorn machine, and a mystery fluid that's injected intravenously. Once settled, viewers "synchronize" with the film by staring directly at the screen and blinking their eyes rapidly. Such diversions from story-telling show Tim and Eric at their finest.
Recently, on the social news website Reddit, someone asked the directors how they might direct without any financial or legal constraints. Heidecker responded, "Sometimes censors and budgets are good. They create boundaries that help you define what you do." The boundaries of a full-length comedy film are clearly much different from a ten-minute spot on Adult Swim. Regrettably, it feels a little bit like Tim and Eric have gone off course in their new setting.
"Tim and Eric's Billion Dollar Movie" is currently available to stream on YouTube, iTunes, and On Demand. In theaters March 2.