The House Judiciary Committee introduced controversial legislation in October, aimed at curbing Internet piracy, that has been hotly debated in Washington. The Stop Online Piracy Act (SOPA), which enjoys bipartisan support from both Democrat and Republican co-sponsors, would allow the U.S. Attorney General's office the right to seek an injunction against foreign websites that traffic counterfeit or stolen good and services. Current U.S. law only allows the Attorney General such enforcement powers over domestic websites.
Essentially, SOPA gives the federal government the ability to block access to "rogue websites," defined by House Judiciary Committee Chairman Rep. Lamar Smith (R-TX) as "websites that are dedicated to the facilitation of the illegal sale and distribution of counterfeit or pirated goods" if it receives a complaint from a copyright holder. The bill's creators claim that it provides a legal channel for the federal government to settle disputes between copyright holders and these rogue websites. Proponents of the bill argue that without granting the federal government this power, media companies will continue losing revenue to websites that illegally stream copyrighted material.
A broad and influential coalition of interests are supporting SOPA and its Senate version, the Protect IP Act (PIPA). Industry heavyweights such as the U.S. Chamber of Commerce, the Motion Picture Association of America, Viacom and a number of other influential groups in trademark-dependent industries have joined in supporting the bills. These groups argue that without this legislation, copyright holders will continue to lose revenue to sites that illegally stream their work. According to an article in the Washington Post that cites a Chamber of Commerce report, media firms lose an estimated $135 billion in revenue to counterfeiting and pirating.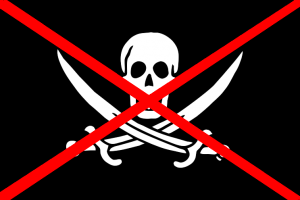 Michael O'Leary, a representative for the MPAA, stated that SOPA was an effective tool to prevent the 2 million Americans employed in the motion picture industry from having "their work stolen out from under them by criminals out to make a profit." The legislation would block pirating sites' access to American consumers and the financial services that fund them.
The bill has drawn the ire of an equally broad coalition of interests that oppose SOPA, including major tech firms, human rights groups and free speech advocacy organizations. Lobbyists representing Google and Facebook, among other firms, are mounting an attack on SOPA and PIPA on Capitol Hill while their public relations representatives have taken their fight to the press through op-eds and media blitzes on the web. Mozilla, the tech company that created Firefox, a web browser, and Tumblr, a blog hosting platform, displayed black banners on their websites that read "stop censorship." Similarly, on November 16 The Quad's publishing application, WordPress, posted on Twitter, "Following the #SOPA progress with great concern. WordPress wants to democratize publishing. Censorship = bad."
While there is agreement that SOPA and PIPA's mission of stopping the piracy of copyrighted material is a valuable one, the bills' methods are highly contested.
One measure of the bill, which requires third-party sites such as search engines and blogging platforms to redirect links or block rogue websites, has proven particularly controversial. This might mean that The Quad or WordPress could be held liable if a writer were to post a link to this Hong Kong-based website which streams copyrighted material. Essentially, the provision requires careful monitoring by Internet sites and holds them liable for their content regardless of who posts it. This has dire implications for websites that run on user-generated content such as YouTube, Tumblr and Facebook, requiring them to monitor their posted content.
From an economic standpoint, opponents of the bill argue that forcing Internet firms to pre-screen and monitor all of the content posted on their websites poses a substantial burden to their operations. Opponents argue that if such rules had existed five or ten years ago, its unlikely that websites such as YouTube or Tumblr would exist. SOPA's supporters have pushed back saying that protecting intellectual property rights will generate revenue lost to piracy which will help the American economy and generate jobs.
Others argue that the bill's use of censorship undermines the existing, largely uncensored structure of the Internet while making the Internet vulnerable to abuse from private actors and the federal government. T. Barton Carter, Chair of the School of Communication's Department of Mass Communication, Advertising & Public Relations spoke against SOPA and its Senate counterpart, calling them, "excessive intrusions into the functioning of the Internet basic infrastructure." Carter, who is also a practicing attorney specializing in communication law and new communication technologies, further argued that SOPA and PIPA's "authorization of judicial orders without proper hearing and notice is arguably unconstitutional."
A number of alternative proposals to stop Internet piracy have been put forward. Eric Schmidt, the executive chairman of Google, recommended legislation that focused on making it illegal to collect revenue from rogue websites. Rep. Darrell Issa (R-CA), whose Sillicon Valley district is home to a number of major tech firms, echoed Google's position, saying similar legislation should focus on "following the money."
On Thursday, Senator Ron Wyden (R-OR) a major opponent of PIPA, unveiled an alternative proposal. Sen. Wyden proposed updating the rules of the US International Trade Commission, a federal agency, to better define digital goods and utilizing the agency to give it a role in settling disputes over intellectual property.
Despite the lack of specifics, recent reports suggest that SOPA's language will be changed to accomodate the concerns of the technology industry. The next significant developments regarding SOPA will likely occur on December 15, the date for the House Judiciary Committee's mark-up of SOPA.  Members of the Committee will have the opportunity to debate the bill, amend it and make changes to its legislative language. Committee chairman Smith is purportedly "open to changes." Look for public relations campaigns and lobbying efforts to coalesce around this date.
Here is a comprehensive infographic on SOPA via buisnessinsurance.org.