The most wonderful time of year has just about arrived. Students' planners are color-coded chicken scratch and brains are fried. While notebooks and handouts loom tall on desks, stacked higher nearby are the suitcases and carry-ons which eagerly await the last day of finals. The majority of BU students will say 'see ya later' to the winter wonderland of late December in Boston and head home for the holidays. With the mass exodus of students, is campus left as barren as the branches of a tree in winter?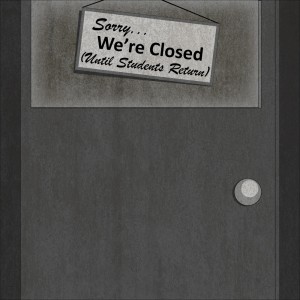 According to university-released findings on our school's economic impact, in 2008 BU students alone spent $342 million.  Boston's overall student population contributes approximately $4.8 billion to the city's economy annually. Our college town wouldn't be much of a town without its students,it seems. So it's only natural that in our absence – though it may be temporary – the city of Boston aches for us.
It's easy to imagine a ghost town: empty streets, icicles falling on untouched snow, the T opening and closing its doors the Comm Ave stops without a soul coming or going. Although we'd like to believe absence makes the heart grow fonder, BU territory is probably doing just fine without us. We might ask, what's T's without us? What about Noodle Street? And University Barber? The combined population of BU undergrads and grad students is approximately 29,000. The overall population of the city of Boston, according to data from 2010, is 617,594. Our campus touches Kenmore/Fenway, Brookline, and Allston. Amongst these neighborhoods is a plentiful non-student population.
Most successful businesses such as T's, Noodle Street, and University Barber remain open and patronized even after we've gone.
Jennifer Frederickson, manager of 623 Comm Ave's Dellaria Salon, said, "It does affect sales when you leave for the season, and when you come back." However, when asked if the salon relies on the patronage of BU students, Frederickson edited the statement – in lieu of relying on BU students, the salon, "thoroughly enjoys" our presence. She said that naturally, as the population of the area decreases over break, so do sales – but only minimally. There might be a slightly decreased demand, but the salon makes up for our absence with its plentiful pool of non-student clients. Interestingly enough, Frederickson says some of these clients are BU alums who have patronized the salon for 20 or 30 years, loyal to the same Dellaria stylist they frequented in their college days.
While most of us eagerly anticipate holiday fanfare and home-cooked meals, what becomes of the fateful few who stick around? Those who haven't made other arrangements will be given a room in Kenmore Square's Hotel Commonwealth. The month-long hiatus from homework provides an excellent excuse to visit all of the city's treasures guilt-free. Many facilities such as FitRec are still open for use, and students must keep their Terrier Card on them at all times to show at the hotel front desk upon entry. It is a vacation from school, but not from your Terrier identity!
A month is an awfully long time to be away from your home away from home. It's easy to miss Boston while you're away, but it's safe to say, Boston isn't missing you.