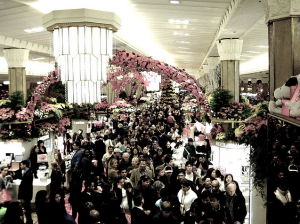 It happens every year. In Facebook statuses and Twitter updates, hundreds of thousands of Americans proclaim their readiness. The myriad lines up, hunkers down and girds its loins for the big day. When the clock strikes midnight, multitudes of people storm the front doors of Best Buys, Targets and WalMarts, stopping at nothing to get savings on diverse items. Yes, that time of year has come again: Black Friday.
This notorious day of shopping has become something of a cultural phenomenon, with record numbers of 226 million shoppers heading to stores this past Friday in comparison to the 212 million last year, as well as record expenditures of 52.4 billion dollars, up from 45 billion dollars last year. In light of the country's late economic downturn, however, the successes of sale days such as Black Friday and its internet cousin Cyber Monday only throw into sharper focus the continuing slump in retail shopping in America. What this portends for the future is clear; it is not certain whether one should expect to see a continuing upward trend from this isolated peak or just more of the same recessionary tendencies.
It's believed that shoppers typically do about 10% of their holiday shopping on Black Friday and Cyber Monday, but this year's massive group of shoppers suggests that many are getting as much of their gift shopping done during that weekend and then laying low for the next five weeks leading up to the holidays. Around the country, lines (or, more accurately, crowds) formed as early as 9 p.m. the previous evening as some stores, in an effort to woo more customers to attack their wares, moved their opening times to 12:00 a.m. on Thanksgiving night. Some prospective shoppers camped out in their cars and tailgated in preparation for the surge. Many opportunistic food vendors even set up shop in the wide parking lots, supplying treats to hardcore shoppers.
The promise of great deals yields a sudden enthusiasm for shopping unseen on other days of the year. This deal-hunting does not only extend to superstores like Target, Wal Mart and Best Buy, but also to clothing retailers such as Urban Outfitters. This location in Thousand Oaks, California was frantically swarmed by eager shoppers as soon as doors opened.
Cyber Monday, the online version of Black Friday, yielded a quiet (if powerful) storm of shopping, with spending totals ringing in at over a billion dollars as online stores flat-lined prices and sent out hundreds of alert emails notifying customers of various sales. Large retailers like Amazon as well as high-end sites like Net-a-Porter made huge price cutbacks, leading to a flurry of shopping activity.
On the surface, this year's Black Friday and Cyber Monday were huge successes, with record average spending of about $393 per shopper and more purchases of items like jewelry and small technology. While some say that this bodes well for the future, it's not clear whether these behaviors will continue once the rush of sales is over. It's quite possible that consumers were simply taking advantage of these sales for that one day and plan to spend very little else until the next big sale. The retail market has largely stagnated in recent years, with fewer shopping trips and lower spending per trip all around. On Black Friday, shoppers flood the stores, but what happens after that hectic day is another story altogether. While the billions of dollars entering the market are nothing to sneeze at, this momentary peak in American spending will quickly return to the economic doldrums with which we have become so familiar these past few years.
So, what is a frugal college student to do for his or her holiday shopping in this difficult economy? For those who missed the sales of Black Friday and Cyber Monday, there are still plenty of ways to stock up on gifts for friends, family, loved ones, and even one's self. Try a smaller, more local approach to holiday shopping that will not only boost the local economy but yield more unique gifts. Try scouring local antique stores, small boutiques and local eateries as gift locations. These types of locales may require a bit of extra work, but that provides a personal touch to your gifts that a department store might lack.
Boston is host to innumerable gift spots. Try a gift certificate to the Trident Café and Booksellers, a small piece of art from Simon Pearce or a really great accessory from Stel's for a stylish friend. All these little shops are located on Newbury Street, a short walk or T-ride away from campus, and these stores represent just a miniscule slice of what Boston has to offer. If online shopping is more your speed, try your luck on sites like GiltCity and RueLaLa, which can also point out fun new discounts on prime spots in the city.
The country's economy might be struggling, but that's no reason for anyone to miss out on the fun of holiday gifting. Explore, stay local and get creative, and even if you missed Black Friday savings, you won't break the bank this season.