Images of Marilyn Monroe bring to mind a voluptuous American icon with blond curls and a devilish smile.  Even though our generation has never seen her in action, her image still appears once in a while, reminding us of a great talent gone too soon. Marilyn deserved her iconic status, but she was also woman struggling with inner demons. Colin Clark was one of the few who had the chance to see the real Marilyn Monroe, and his first meet with her is the basis for the movie My Week With Marilyn. The movie does not focus on Marilyn the public knew and loved, but the woman so few got to see.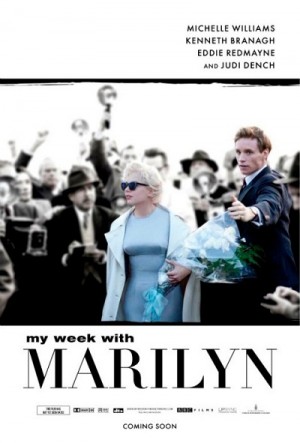 Colin Clark, played by British newcomer Eddie Redmayne, is a privileged young man looking to make a career out of his true love—film. His persistence to make it into show business never falters, and he soon lands a job working as a third assistant to Sir Laurence Olivier on The Sleeping Prince, later renamed The Prince and Showgirl. Olivier, played by the always charismatic Kenneth Branagh, is determined to make a film worthy of his high standards– but someone is getting in the way. Enter Ms. Monroe. Fresh off her wedding to playwright Arthur Miller, Monroe is to play the showgirl. The first moment we lay eyes on her, she is magical. Michelle Williams is effervescent and entrancing as Marilyn and is able to express Marilyn's playfulness but also her intense vulnerability. On set she is guided by acting coach Paula and is always late, much to Olivier's dismay. However, for all the bad takes she suffers through on set, Marilyn has some so good that everyone forgets her faults. As production rolls on, Colin and Marilyn become close almost instantly, mostly due to Marilyn's magnetism and Colin's sweet innocence. They amaze each other but Colin is warned not to get in to deep. As if he had a choice.
It would be the best kind of ending if Marilyn and Colin fell madly in love and got married and never left each others' side. However, reality does not match up to fantasy. Marilyn is a deeply troubled woman who just wants to be loved. No one else on the film set understands her like Colin. Colin, while in a trance over her, knows their relationship can never be. In bed one night Marilyn, referring to her career, says, "I can't just give it up."
After watching the film,  one wants to know all about Marilyn Monroe. Her style, grace and wit is unmatched to this day. While the film is less about a young man's foray into films than his literally week-long love affair with an icon, My Week with Marilyn is a wonderful, if slight, glimpse into a fascinating true story. Michelle Williams, along with the stellar cast (nods to Judi Dench and Emma Watson) is marvelous. The film is worth seeing just for her performance.
Although 55 years after The Prince and the Showgirl was made, this film feels as fresh and welcoming as a warm summer day. A-