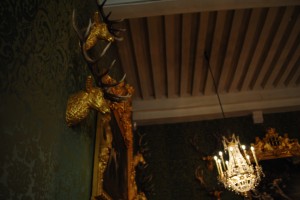 I have always been one of those people who believes strongly in the sanctity of Thanksgiving. It isn't a just a buffer holiday so people have a reason for a long weekend in between Halloween and Christmas. It is a wonderful celebration of the importance of community, and it is perhaps the only major holiday that has resisted commercialization. Or, to be more precise, it is the only major holiday that has resisted commercialization as long as one blatantly ignores the existence of Black Friday. Which I do.
Despite the fact that I had spent two weeks leading up to Thanksgiving thinking about how strange it would feel not to spend it at home, I still had a hard time wrapping my head around the fact that the fourth Thursday in November is not Thanksgiving in France. When I tried to teach the kids I babysit how to draw hand turkeys they were confused and a little suspicious. "How does that look like a turkey?" They asked, looking skeptical that someone who couldn't even draw a turkey should be trusted with their safety. "Why do its feathers look like that?" Then, as if suspicious that I was exploiting them to make money on the Thanksgiving Crafts Black Market, "Who are you going to give these to?"
Quite apart from my inability to convince French children to celebrate a holiday they don't understand, I was having a hard time convincing myself that I was actually in a place where no one cared about Turkey Day. Every time I looked in the window of a restaurant, I spent a few seconds feeling sorry for all of the people without a home cooked meal for the holiday before remembering that none of them thought it was a holiday. When I put off grocery shopping until the last minute, I kept worrying that the stores would be overrun, or that they might run out of key ingredients or close early.
After overcoming my unfounded fear of crazed hordes of procrastinating grocery shoppers, I made my way back to my woefully underequipped kitchen with all the ingredients for green bean casserole and the most expensive bottle of wine I've bought in France so far (four Euros – it was a big purchase).  The dish I made was the same one I have made every year for as long as I can remember; although this year was the first time I actually ate it. (After careful self-examination, I have been able to determine that the only reason I never tried it was to spite my mother – sorry Mom!)
With twenty friends gathered around several crooked tables and not quite enough chairs, with tiny American flags stuck into all of the baguettes, I had an unambiguously successful expatriate Thanksgiving. France even cooperated by launching its several Christmas Markets this week, with tents selling everything from giant slabs of chocolate to disgusting fair food. This allowed me to replicate my preferred method of Black Friday celebration (Coney dogs for the whole family!) with a hot dog served in a baguette bun, ordered from a French man who was clearly judging me for buying what he did not consider to be a valid food item.