Allston seems to be crawling with House shows. What with the Secret House of Pancakes, Wacky Kastle and Yes.Oui.Si, Boston is bursting with house basements and art galleries alike willing to host a few bands for a night.
So, in true Alston form, Danish natives The Migrant had their record release party for their latest US release, 'Amerika,' last Tuesday at Apartment 9. Singer/songwriter Bjarke Bendtsen had just arrived in the states with guitarist and harmonizer-extrordinarre Mads Hartmann. Severely jetlagged, they put on an incredibly stellar show with Berklee opener Christa Gniadek.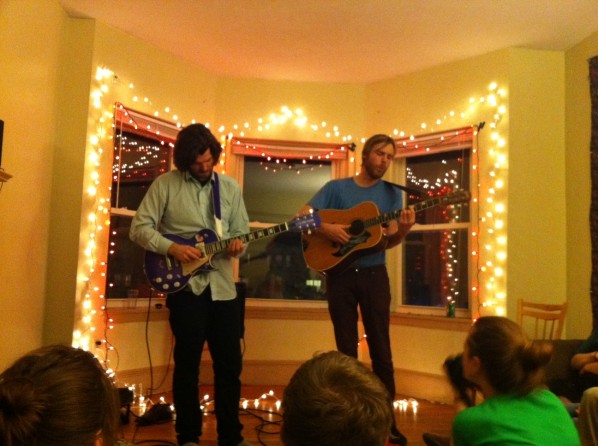 Pre-show, Christa and Mads jammed on the couch. Mads pointed randomly to a list of songs Christa had taped to her LX1e Little Martin guitar, which she then played. He improvised incredible harmonies and melodies on his tricked-out Gypsy Rose guitar, taking Christa's beautifully simple songs to a whole other level.
People slowly filtered in, and Christa started her set around 8:45. She set up on a chair under the orange and white twinkle lights hung above a set of bay windows and sang with the honesty of someone who breathes for their music. Her lyrics are gorgeous, and inspire imagery that works well with her guitar plucks and smokey voice: "So here I sit/ on top of this building/ lower than I've ever been."
Gniadek played through six songs, ranging from the incredibly sad "Black and Blue" to "Without You," a song about Gniadek's sister. In this song, Gniadek's skill as a songwriter shone through. She infused the song with sadness and the uniqueness of sisterhood while staying connected to images from childhood: "Safe to say we're different/ as copying is dangerous to do…I can feel your hand, your skin, your heartbeat/ sister, won't you be here for me too"
The Migrant played after the speediest set-up I have ever experienced. Granted, there were only two of them, and it was a small space, but severely jet-lagged Danes sure can move.
"Welcome to the release party of Amerika!" said Bendtsen. Mads, surprised, responded, "It's the release party?!" before they launched into their first song. It was strange at first to see a grown man whale on a small, sparkley purple guitar, but Mads pulled it off. The guitar, made in China, was originally intended for young girls so they would want to play. Mads had his children decorate it with the stickers it came with and replaced the hardware so it sounded crazy beautiful.
The duo powered through their 10-song set with songs from 'Amerika' and 'Travels in Lowland.' With just two guitars, and only the Gypsy Rose amped, Bjarke got an amazingly loud sound from his guitar as he played and sung alongside Mads with incredible energy. In lieu of a percussion section, Mads was close to pounding through the floor, while Bjarke stomped on a yellow tambourine he had placed on a red hand towel.
Perhaps it was the severe sleep-deprivation, but Bjarke was hilarious. He seemed to be overflowing with infectious enthusiasm and joy. At the end of the first song, he did some fake karate and jumped around, happy as a clam. "
It's really nice to start playing some music instead of staring at a computer screen."
Before playing "Molehills," he said "It's about digging…holes? And coming up again, I think." He then busted out his harmonica, attached it to his neck and sounded a lot like Stephen Merritt of the Magnetic Fields, only Danish and hopelessly honest as he crooned "And you want to know yourself/For everybody else."
Between songs, Bjarke would take a swig of Rolling Rock, and prefaced every one with "skål" (pronounced 'skol'). "Cheers!" he said, with the easy laugh that was never very far away. "I'm just teaching you the ways of our people!"
They also sang one song in Danish from Travels in Lowland entitled "Gør Hvad Du Sagde Du Vil Gøre En Dag" which means "Do what you said you would do one day." After the show, Bjarke wrote out the title for me, and translated it by pointing to each word in turn.
The song was inspired in Texas, when someone asked why they never sang in their native tongue. "Nirvana took me somewhere in '94, and I never looked back," Bjarke explained. Mads introduced the song with a simple, "This is a Danish song commissioned by American people."
The great thing about house shows is that the audience can really get to know the people they've just seen. After the show, Bjarke said "You can come see us backstage" and everyone made their way towards them. Mads laid down on the ground and fell asleep for a while. The audience got to chat with the band and get records signed. We talked about their incredibly silly song "The Pony", how great Fleet Foxes and Sondre Lerche are, and the rare magic that makes Honey Bunches of Oats cereal so delicious. They are incredibly sweet guys, and I wish them all the luck in the world.
The Migrant are touring as a duo until they reach Texas. At that point, Mads will go home and Bjarke will be joined by the Austin All Star Team in Texas to play and record. He will then play solo at house shows and venues alike on the West Coast.
For more on The Migrant, including albums and tour dates, visit their website here: http://themigrant.net/
Listen to Christa's music here: http://maidenbrainmusic.com/