Although alcohol and drug use isn't uncommon on college campuses, Hammered.org is proving that being sober can be fun. The recently-launched website lands just in time for the fall semester, providing listings of local events and activities that don't involve alcohol or drugs. Young adults and college-aged Bostonians can sign up for weekly newsletters highlighting some of the city's best booze-free events, or check out the calendar directly on their website.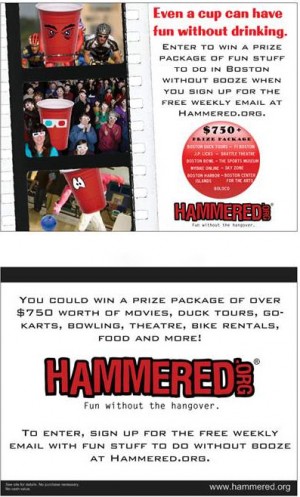 According to the site's founder, Ken Procaccianti, Hammered.org does not aim to chastise or take aim at partiers, but helps inform readers of the just-as-fun alternatives that are happening around the city.
"Hammered.org is not about telling anyone that using alcohol or drugs is wrong," said Procaccianti. "There are many other groups and programs that inform students about the ill-effects of abusing alcohol and drugs.  By highlighting fun stuff happening around Boston, Hammered.org is demonstrating that you can have a good time without drinking or drugs."
Hammered.org is hosting a site-launch contest for readers who sign up for their free weekly email, where subscribers will be entered to win a prize package from contest sponsors like Boston Duck Tours, J.P. Licks, Boloco and more.
Users can also submit their favorite events to the Hammered.com calendar, which includes everything from a "Giant Weird Puppet Show Circus Thing" in Harvard Square to open studios sessions at the SoWa Artists Guild.
Procaccianti summed up college life pretty well in his explanation of Hammered.org's mission, "Meeting new people or making friends at college should not be limited to screaming into their ear while standing on a sticky floor of a frat house or bar. On our website and in our free weekly email, we are proving that you don't have to rely on drinking or drugs to have fun."
Find more from Hammered.com on their official website, YouTube channel, Facebook page, Twitter and online store.