The Vagina Monologues aren't exactly what you'd call subtle. Granted, subtlety is hard to achieve when you have the word vagina in your title. However, the actresses of Athena's Players showcased surprisingly nuanced performances in BU's annual production of The Vagina Monologues this past weekend, at one moment hilarious, the next, heartrending.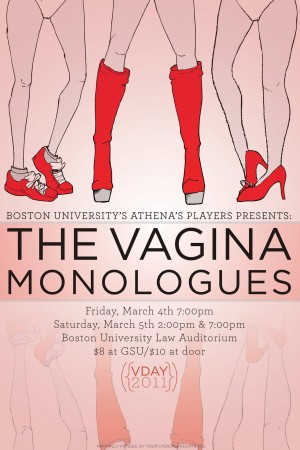 The Vagina Monologues, affectionately known as "VagMo," is the off-off Broadway brainchild of playwright and feminist activist Eve Ensler. The play is based on a series of interviews with women conducted by Ensler and later turned into monologues, verbal essays that have been performed on stages worldwide since VagMo's inception in 1996. Athena's Players, a predominantly female theater troupe, brought the monologues to the BU stage with their three-performance run of VagMo on March 4 and 5. Performing to a full house at the Law Auditorium, the troupe's talented ladies presented 16 monologues with topics ranging from menstruation to masturbation, mutilation to motherhood.
Despite such touchy topics, bashfulness thankfully went straight out the window as the VagMo actresses didn't shy away from dropping the V-bomb every chance they got (the "vagina" count is well into the hundreds). Many of the actresses even pulled a When Harry Met Sally, boldly simulating orgasms onstage. CAS junior Alissa Brown stole the show with her renditions of different types of orgasmic moaning, from the "college moan" ("Oh yeah, I came all the way from Danielson for this!") to the "Oprah moan" ("You're going to come! And you're going to come! Everybody's going to come!") during the monologue "The Woman Who Loved to Make Vaginas Happy." Lovers beware —Brown is really good at faking it.
Other standouts include Anna Petcosky (SED '13), who performed the popular "My Angry Vagina" with a hilariously heavy dose of red-faced rage, shrieking about the discomfort of thongs, tampons, and gynecological exams.
"Why the flashlight all up in there like Nancy Drew?" she screamed.
Margarita Diaz (CAS '13) proved a natural presence onstage in the somber "My Vagina Was a Village," detailing one Bosnian woman's account of gang rapes by soldiers during the war in Yugoslavia, and CAS sophomore Kaitlin Bresee displayed great comedic timing during "Because He Liked to Look At It," describing one man's affinity for staring at the boy howdy.
Because the play is a collection of individual stories, the tone frequently shifts throughout, sometimes choppily. The heavier monologues, like "The Little Coochie Snortcher That Could," centered on a young girl's traumatic sexual experiences, lose a bit of weight when dovetailed with lighthearted ones like "Six-Year-Old Girl," a monologue in which a little girl claims her vagina smells like snowflakes. The juxtaposition between the silly and the serious at times came across as jarring, with uproarious laughter evaporating into uncomfortable silence, but whether that is a fault of Ensler's writing or of the specific script composition of the BU production remains to be seen.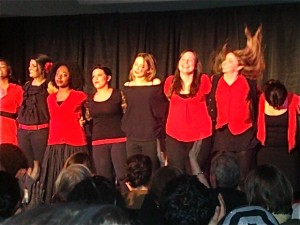 While most of the production doesn't change from year to year, director Sarah Sullivan (CAS '11) handpicked two of Ensler's recent additions to VagMo to include in this year's performances: "Hey Miss Pat" and "Myriam." "Miss Pat" describes the life of a woman after Hurricane Katrina, while "Myriam" was included to "honor the women and girls of Haiti," Sullivan said.
"This year, the spotlight region was Haiti," Sullivan said. "We decided to add 'Miss Pat' because we thought it complimented 'Myriam' and wanted to suggest that Haiti, like New Orleans, will need help and assistance long after their natural disasters are over."
Underneath all of the laughter and lady parts talk, the monologues serve a greater purpose. "The Vagina Monologues have become both an artistic endeavor and an activist one," Sullivan stated. VagMo is held as part of V-Day, a global non-profit movement that works to end violence against women, and raises funds and awareness through benefit productions of the monologues and other events. All of the proceeds from BU's performance of The Vagina Monologues were donated to V-Day's Spotlight Campaign to support the women and girls of Haiti, and to the Finex House, a domestic violence shelter for victims and their children who have disabilities in Jamaica Plain.
Overall, the BU production of The Vagina Monologues was a successful melding of entertainment and education, giving spotlight to often uncomfortable and even taboo issues.
"I hope the audience feels moved, outraged, offended or inspired," Sullivan said. "Mostly, I hope audience members feel compelled to talk. The themes explored in the show are complicated and not meant to be kept to oneself, they are meant to be discussed."
For more information on "The Vagina Monologues" and the V-Day movement, check out www.vday.org.