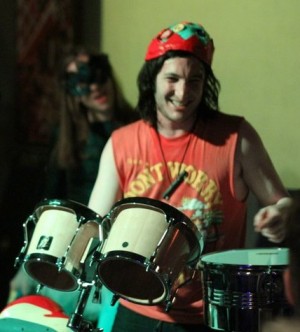 Local musician and producer Supersillyus released a double album of electronic music, Tesselations, on Wednesday. The record release party was held at Wonder Bar in Allston, where Supersillyus performed a lively set to a colorful crowd, along with DJ Zola and local favorites Wobblesauce.
The show included a costume contest, live painting, and onstage pancake flipping.
Supersillyus is the moniker of 22-year-old Los Angeles native Rob Uslan. Tesselations took Uslan over a year to complete. He orchestrated all the instruments on the album, including synthesizers, drum machines, piano, guitar, bongos, and glockenspiel, among others.
Supersillyus is affiliated with Base Trip Records, an independent label founded by BU alum Conor Loughman (COM '10), and The Brain Trust, an artist management and production company operated by Loughman and BU alum Kyle Langan (CAS '10).
Uslan gave the following interview on a break from setting up at Wonder Bar.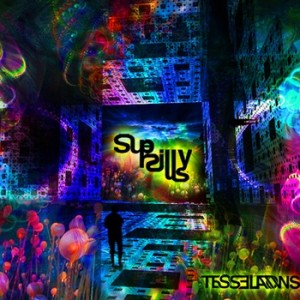 The Quad: So, why Tesselations?
Rob Uslan: Tesselations is the concept of taking really simple shapes and repeating them over and over and expanding them… It applies to this album because it's basically a one hour and 40 minute song that starts low and simple, and then keeps building and morphing as it expands throughout.
What inspired you while you were making Tesselations?
Living at my old house. At any given moment there were dozens of people partying to crazy music, and it was just, total creativity zone, slash complete chaos. And what we were bringing into the house was new, weird, cutting-edge psychedelic music being pumped into my head 24 hours a day.
What's the creative process like in an environment like that?
I would wake up and just start making music all day… fiddling around on the keyboard, trying to find notes and riffs. I made a habit of recording every single thing I did… I would make a bass synth and play on it in different keys for an hour, and listen to it, and be like, wait a second, those three seconds are f–ing awesome, let's see what I can do with just that. A lot started as improvisations.
How do you complete a song to the point that it's ready to be on a record?
I had 30 or 40 songs that weren't all laid out, and I whittled it down to my 20 favorites and started organizing them. Like, alright, these three songs happen to be in the same key, let's see if I can arrange them by speed and make it flow… it's a lot of building puzzle pieces and figuring out how they fit.
How does Tesselations compare to your debut LP, Grampaspaceshuttle?
It's way more dynamic… Grampaspaceshuttle wasn't very dance-y. It's more of a sit-down-and-listen album, whereas on Tesselations, there's definitely some songs where you wanna get up and run around in circles.
What are your future plans in terms of music?
I wanna keep doing this kind of stuff, that's for sure. I really wanna work more with [labelmate and BU alum] Steph Barrak, who's starting to make her own electronic music… she sings bits and pieces on just about every track of this album.
And what are your future plans otherwise?
I don't really think that far ahead… I'm thinking about going back to school in the fall. It's a matter of whether I can pay for it and what happens with my music in the next six months. I would love nothing more than to just do this my whole life, but I would like to not have to have a day job, either… so we'll see what happens.
How do you want your music to affect people?
I want people to have as much fun listening to it as I did making it. It's super silly, but I take it very seriously. I take having fun and helping people have fun very seriously. A lot of electronic musicians are more about club scenes and making beats. You see a lot of DJs with their laptops and it just looks like they're checking their e-mail the whole time. I'm sort of rebelling… people are trying to have fun, help them out.
"Tesselations" and Supersillyus's earlier releases can be streamed for free and downloaded at http://supersillyus.com.