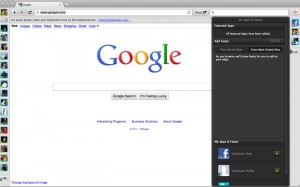 We've all been there. Staring at a computer screen cluttered with windows. Clicking through endless tabs to access Facebook, Twitter, various RSS feeds and actively copy-pasting the best links from StumbleUpon, Digg, and Reddit to tell your friends all about that new cute video of corgis running through the living room. Multi-tasking social streams, juggling news and snagging the latest gossip seems priority number one for our technophile generation, so how do we take that next step into total techno-social immersion?
RockMelt, the new start-up social-media-RSS-mashup browser, may provide the answer.
The Quad announced the debut of RockMelt in November, but with nearly six months into beta testing, there's been plenty of growth. Part social experiment, part news generator, RockMelt takes advantage of browser frames to quickly and efficiently post status updates, chat with friends, tweet, link, and eliminate the need for long-standing tabs in your favorite bookmarks. Michael Hsu, Community Manager for RockMelt, said that the team doesn't think of their project as just a social browser.
"RockMelt is just trying to make browsing easier. You don't have to keep checking websites and that saves a lot of time. You get alerted to something new every time it happens," Hsu said.
And there are plenty of alerts. In order to fully understand RockMelt's capabilities and aid in productivity, this entire article was written in the RockMelt Browser. Since I began typing, the left sidebar has moved and shifted with the comings and goings of my many Facebook friends. While there is a star icon to only show my "favorites," the constant moving causes my eye to suspiciously track to the left. And, on the right, my favorite websites are alight with Facebook statuses and RSS updates. Throw in seamless sharing capabilities, a nearly immediate Google browser, and the ability to both tweet and muse on my profile without leaving my writing station, and it's orderly chaos. Hsu adds that this is only the tip of the iceberg.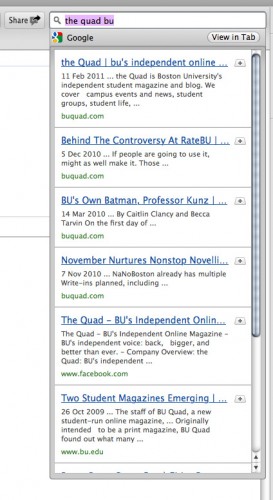 "We just came out with a YouTube application. It's our first release, but that will give people more of an idea of where we're thinking of moving RockMelt," Hsu explained.
There's plenty of features available, but it's a long road to release. Still in beta, Hsu noted that RockMelt does not have a scheduled mass release date. For now, there are still bugs to fix, features to add and details to touch up. But Boston University students won't have to twiddle their thumbs and wait for the release date.
Boston University has been tapped for a community-wide beta, available here.
Why BU, why now? Well, it seems a no-brainer given the media climate of the Charles River Campus. And RockMelt has the potential of being the ultimate social networker's dream. There's no wait time, no clicking, and no getting lost in the shuffle. Hsu explained this opportunity arose from a small group of BU students who have been active in RockMelt development since its release.
"We thought, 'Man, there must be something about BU that would be good for us to put more effort in reaching out to," Hsu said.
So BU community, take a look. Is RockMelt the wave of the future, or a productive students worst nightmare? I'll admit, at the end of writing this article, I feel as overly-stimulated as a businessman sucking down a Trenta cappuccino from Starbucks. Perhaps there's a learning curve within the program, or an active browser is a polarizing application that throws traditional browsing out the window for better or for worse. Jury's out, and there's more to be seen. So, the question remains: is RockMelt the internet catalyst we techno-natives are looking for? Time to wait and see….