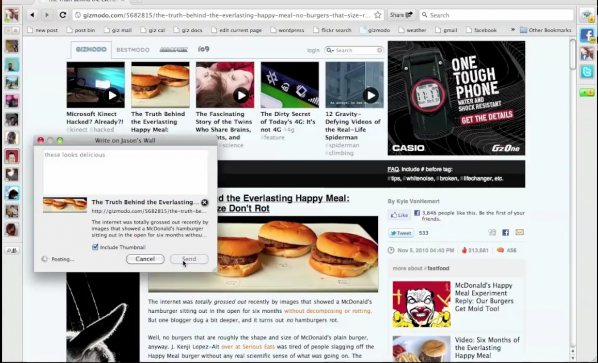 The past week saw the dawn of the new browsing era: the debut of RockMelt. A web browser built on top of Chromium, the open source program that powers Google Chrome, it looks as though RockMelt is about to forge a path into unknown internet territory.
Why, you ask? Because instead working like your old browser, which demands that you log into Facebook and Twitter within separate tabs and alternate between them to share your information, RockMelt brings all of that to you in the frame surrounding the pages you're currently browsing. And, when you see something you like and want to share (like that latest new video of something fuzzy fuzzy cute cute), you can simply click the friendly sidebar you want to access and then plink away on a friend's wall, or tweet away to your horde of followers. Check out the intro video below to see what I mean:
http://www.youtube.com/watch?v=bAPKPhoTqFY
It looks enticing, but time will tell whether it takes off the way RockMelt hopes for. Technology based solely around the option for social networking has had a rocky past, as the ghosts of the Kin mobile phones still haunt my electronic dreams. Plus, the big name behind RockMelt is Marc Andreessen, who dial-up nerds will know as the founder of Netscape and the loser of the original browser war for supremacy (Internet Explorer came out on top). And with RockMelt's launch, there's a lot of buzz about whether there will be new problems with internet privacy and information sharing within a browsing session (though RockMelt says it's committed to your privacy) and if people will be able to know/see when you're using the internet for it's primary use–porn.
RockMelt has a lot stacked against it in terms of breaking into the lucrative browsing world with an innovative program, but there is a chance that the combination of fast loading speed and hyper-connectivity will satisfy the needs of all the Facebook and Twitter junkies who are always looking to get another fix.
Interested in trailblazing the browser unknown? Get info on how to sign up for the beta here.