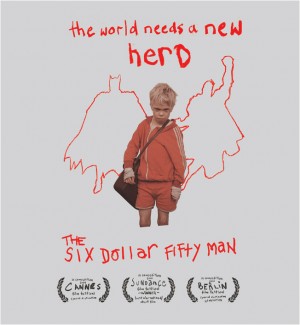 For those of you have never known the pleasures of a short-length film, the nine samples which played at the Coolidge Corner Theatre makes an excellent introduction to the world of shorts. There's an entry of almost every description: comedy, drama, strange, abstract, quirky, and animated. Yes, there's something for everyone, and almost assuredly, it's a movie-going experience you can enjoy in all of its absurdity short run time. Straight from last year's Sundance Film Festival, it's the 2010 Sundance Shorts.
The series begins with an adorable short from New Zealand. Clocking in at around 15 minutes, it's one of the longest in the set. The Six Dollar Fifty Man concerns itself with the story of a superhero in the disguise of a little boy. Or at least, he thinks so and only his friend that's also a girl notices his talents. Just like any superhero story, our main little man has to fend off bullies and defend the helpless. Loneliness and defying your teacher is just so cute at this age.
And for something completely absurd: Wisdom Teeth from cartoonist Dan Hertzfeldt is his 2010 entry to Sundance. Just as strange as the previous year's I Am So Proud of You, Wisdom Teeth is the odd cartoon of a wisdom tooth extraction spoken in a pseudo-Swedish-gibberish, complete with subtitles. If you thought your wisdom teeth extraction was "A PAIN OF UNREASONABLE PROPORTIONS;" you have no idea just how badly it could have gone.
The strange train continues with the "I'm not sure what I'm watching" short of Young Love. There is a man running on a farm. Wounded on the side of his gut, he hurls himself over every damn fence in sight before collapsing in a field of llamas. A young woman finds him, proceeds to throw an ax on the ground, and screech at him. In a different language, with no subtitles to boot. It's a short you're just not supposed to get. And that happens sometimes.
We're brought back to earth and logic with a short documentary on an old fruit and vegetable seller down in New Orleans. It's adorable while being cheeky, playing the best music I've ever heard in a short film. Seventies Superfly-esque music is the soundtrack to the man's working day. We follow Mr.Okra to some of the most destitute areas of New Orleans and are treated to a peek at what a beautiful thing it is to be a part of a community. How else do you describe the moment when the old man, cane in hand, marvels at the generosity of his neighbors when they bought him tires for his truck in the aftermath of Hurricane Katrina? All for the sake of bringing fresh and healthy goods back to a place everyone else forgot about.
Don't get too sentimental, as a Spanish quasi-Wes Anderson comedy, My Invisible Friend takes us right back into outer realms of filmdom. Set in some psycho-80's flashback, Tomas explains to the audience that he is so shy he can't even speak to his parents and that the best times in his life are spent alone. But an unwelcome imaginary friend arrives in the form of a lanky figure in red boxing shorts and an Admiral Ackbar mask. His imaginary friend never leaves his side, stirring annoyance at first. But with his first friend, Tomas tries to connect with the world like he's never been able to before. So long as he has a little help from the man in the Admiral Ackbar mask.
My Rabbit Hoppy should be cute. And cuddly. And fluffy. You know, like a rabbit? Instead we hop into the deep end over a young Australian boy's class project. There's something about monster flies and infection, but it is really just more along the lines of mentally scarring. Also, I may or may not have been bitten by a rabbit as a child. Or have severe allergies to them. So I guess life is cruel? I may have just incidentally found the message of My Rabbit Hoppy.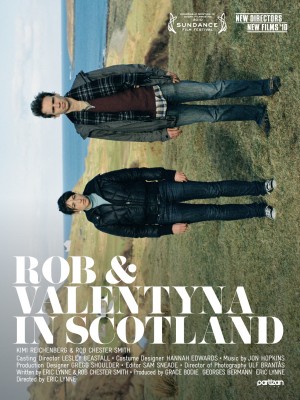 Once again plucked from the heights of madness, the Sundance Shorts turn to the romantic drama of Birthday. Tender and moving, this deals with emotions and relationships in incredible, almost Ingmar Bergman-esque depths. A lesbian couple trying to procure a pregnancy celebrates the birthday of the mommy-to-be. But it's not all Swedish traveling bands and canoes out to sea, as the couple must endure one of the most obstacles in a relationship: reclaiming trust.
From seriously dark human dramas, to the lighthearted silliness known as Will Farrel. I didn't have him picked for Sundance stardom, but here he is in one of the best Funny or Die skits since "The Landlord." Jen Kirkman gets a little tipsy and tells the story of Abe Lincoln and Frederick Douglass. It basically goes downhill from there, giving an entirely new definition to "shitfaced storytelling." Will Ferrel and Don Cheadle reenact every word as Jen stammers to perfection. Oh, and that Mary Todd Lincoln who tells Douglass that Mr. Lincoln would have "Fuckin' loved that speech?" None other than sweet-faced Zooey Deschanel. A cameo from Pearl would have been possibly made it the best skit in Funny or Die history.
Lastly, we're sent off on one last trip with Rob and Valentyna in Scotland. Oh, it's not a love story. Um, it's kind of strange- and awkward story. Since, well, they are…uh… cousins? Having only met briefly before, they set off for a friend's wedding in the UK and decide to catch up on lost time. And there's cultural differences too, since Rob is the American cousin and Valentyna is a native Ukrainian. It has almost all of the trappings of an adorable weekend getaway but completely not! That would be gross. It's kind of like (500) Days of Summer but on a study abroad trip and with cousins. So if it's that many levels of awkward, is it still cute?
Be sure to check them all out before Sundance ends its run next Thursday at the Coolidge Corner Theatre.