It is often hard to imagine that diplomats, often seen by many as conniving and amoral power players who decide whether there will be peace or war, would have any interest in artistic pursuits. But a recent exhibit in Washington DC named "Festival des Artistes" challenged that perception.
Dozens of works of art by diplomats and their retinue and families who live in the city were shown to the public inside a small gallery at the building operated by Bing Stanford in Washington, Stanford University's campus in Washington D.C.
The exhibit, and which will be ongoing until March, is sponsored by THIS for Diplomats, an organization which sends volunteers "to help foreign diplomats in Washington learn to know ordinary Americans and daily American life", according to its website. Festival des Artistes was initiated in 2004 and this exhibit was the fourth in the series, according to an introductory panel.
"[We] realized in 2004 that many of the diplomats posted to Washington were very talented both artistically and musically," said Nan Coughlin, Vice President for Services of THIS, in an email. "We decided that an exhibit of their work would be fun."
"Twenty-two of the exhibitors are diplomats and diplomat spouses. Thirteen of the exhibitors are volunteers with THIS for Diplomats," she said. "The art ranges from the professional to the amateur, including art from three members of a German diplomatic family – a mother and two children, the youngest being 10 years old."
Among the countries the panel listed include Haiti, France, Germany, Indonesia, Djibouti, and Australia. "We had an opening reception that was attended by more than 200 guests," said Coughlin, "The caterers had food representing the 15 countries that were exhibiting this year."
"Stanford arranged to mount the exhibit for THIS as they were in need of a new venue this year," said Adrienne Jamieson, the Director of Bing Stanford in Washington, in an email, "and we share mutual friends and supporters who made the proposal to do so."
"The exhibit seemed like a fitting way to highlight the work of THIS and to serve the international community in Washington," she said.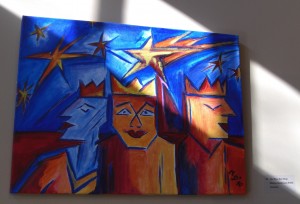 The works exhibited were mostly paintings, but photographs, jewlery, pottery, and relief are also included. One painting by a Swiss seemed to portray Barack and Michelle Obama dancing joyously. Marcela Rohan, the wife of a minister at the Embassy of Argentina, made a few porcelain containers of different shapes with flowers and geometrical patterns on them.
Many of the paintings portrayed still life, such as flowers and eggs, but a few are more abstract and modernist in style. Most of the portraits among paintings are similar to the works of the Cubist movement pioneered by Pablo Picasso in the early 20th century.
It seemed that some of the works here try to capture the darker nature of international relations and diplomacy. For example, one black-and-white photograph by an Israeli with the title "brunch" depicts the scene beneath a dining table, possibly a reference to a saying that everything in diplomacy occurs "under the table".
A German painting titled "Three Holy Kings" portrays three kingly figures with a rather unflattering appearance. The three figures' faces are cut with sharp angles, with the middle one facing the audience looking frightened while the other two show nonchalance. The sky in the painting is dark blue with large flashing stars embedded, while the ground is painted red, as if revealing the bloody and ruthless side of international politics.
Another painting, created by May Yang from Iraq and titled "Under the Tree", shows a young woman who somberly reads a letter under the tree. The background scenery is tranquil, but she may be reading about a contrasting scene — the present-day Iraq torn by war — that is absent from the painting.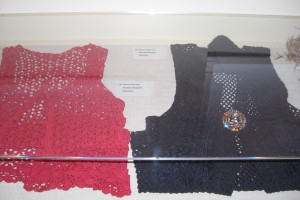 There were few visitors on this Saturday afternoon, but those who came said they enjoyed the artwork on display.
"I think it's interesting because it comes from different countries and cultures," said Caroline Smith, a student of Stanford studying in its DC program who visited the exhibit. "It has so many perspectives. It is fun to look at."
"It has proven to be very popular not only in the diplomatic community, but in Washington as well," Coughlin said.