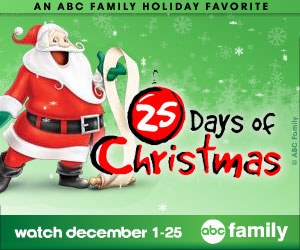 The question you have to ask yourself is this: Are you sick of Christmas? How about the super-Santa presence of all things Yule time? The stores have had the carols blasting since Black Friday, and the lights have been hanging on the windows for all to see. And TV? Well, the Christmas movies have dutifully been on during the weekend primetime and the holiday specials of your favorite shows are just around the corner.
But I'm thinking that one of these channels has overdone the eggnog and should cut back on those candy canes.
ABC Family has shown the 25 Days of Christmas special since 1996. Back then it was one movie or Christmas cartoon a night. It was something the kids could watch while simultaneously driving their parents crazy with the same movie year after year. It became a holiday tradition in my home, as my sister and I enjoyed getting into the spirit with an old school Christmas claymation cartoon.
Then in 2004, ABC Family began a new holiday tradition: made-for-TV movies about Christmas that were cheesier than anything on the Hallmark Channel and twice as painful to watch as a Lifetime Channel movie. In case you've gleefully missed out, these are low budget "new" stories featuring D-list celebrities (I'd hate to use the term actor in such a vulgar way) prancing or running around trying to discover some obscure meaning of Christmas. Even my younger sister would turn Scrooge and change the channel. These movies are as disposable as office Christmas cards that need to be thrown out by the New Year.
Then it got worse two years later when the heads of programming decided just to show regular family fare in lieu of  nightly Christmas movies. This led to pounding movie after movie into blocks of theme nights (Seuss and claymation nights would trade off with a Harry Potter weekend, and so forth). It became a test of stamina to watch Rudolf, the Snowman, and The Grinch all in one night before a weekend tribute to made-for-mediocrity movies.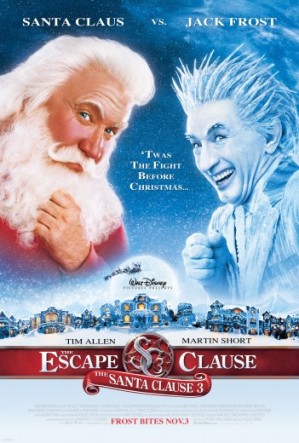 This Christmas, I want to ask why. What is the need for The Dog Who Saved Christmas Vacation? No, dammit, I want an honest answer. Have we as viewers gotten so deep in a sugarplum-induced coma that we'll turn on whatever crap wears the tag of Christmas? Plus, what head of marketing dastardly came up with the idea of using cute furry animals to shovel scripts out of the studio for cheap? Probably the same Scrooge who created Santa Paws and its new direct-to-DVD sequel. ABC Family and Disney are the same kissing cousins.
As for the non-Christmas movies shown during the 25 Days of Christmas (and it's Countdown to the 25 Days of Christmas), okay, fine, so you give parents a break from all the tinsel pouring out of the TV. But the toy ads are non-stop. I mean like you're standing in Toys 'R' Us and can't see anything other than the new Easy Bake Ovens or Wii consoles. AHH! So we've taken out the stories of sharing, acceptance, and playing nice with others for the holidays to push the consumer-driven madness for toys? I mean just a thought here, but kids are highly impressionable. When my young cousins can only talk to me about the toys they want for Christmas rather than, oh, any other part of the holidays like reuniting family, cold weather, or fancy foods, we may have a problem.
Plus, how many Harry Potter marathons can a channel run before its viewers are sick of the series? I know I'm addressing a crowd that watches "The Secret Life of the American Teenager" as if it were a documentary, but dear sweet baby Jesus in a manger there are other movies out there. Yes, the Pixar movies are classics, but ABC Family shows them year-round. I don't think the viewership will fall if they don't do their monthly marathons of the same movies. Over, and over, and over…
What Christmas has become in America is a unique blend of both pagan and Christian traditions with a dash of Protestant work ethic and yuppie consumerism. We have everything from Hanukkah, Kwanzaa, Winter Solstice, Noche Buena, and Pancha Ganapati to explore as similar celebrations that focus on family and cultural ties. Let the holidays remain a designated special time for all. Abstain from spitting on TV screens that come in the form of made-for-TV nonsense and leave regular programming for the rest of the year. How about for our Christmas present this year, you leave kids' Christmas specials alone!