We've got four episodes to cover in this round of the Glee-cap, so let's get to goin':
Episode 7 – "The Substitute" – When trying to get a general consensus on this episode, I mostly heard, "Oh blergh, Gwyneth Paltrow. THE worst." This was often followed by hacking and gagging sounds with the occasional finger-down-throat gesture. Although, this is to be expected, because once you put your name on something as obnoxious as GOOP, there's no coming back from that.
In order to retain my street cred I groaned along with everyone else. I was all like, "Yeah Goopy is the worst. See what I did there? We should call her Goopy now." But in reality, her musical numbers were some of my favorites of the season. When compared to the creepiness and inappropriateness that is Will Schuester, Goopy's rendition of Cee-Lo's "Forget You" as Mr. Schue's substitute was fun and upbeat. Sure it was a little annoying, but I'm willing to bet any time an adult performs a pop song to appeal to her teenage students it's gonna be a little annoying.
The mash-up of "Singin' In the Rain" with Rhianna's "Umbrella" was probably one of the coolest performances the show has done. Though Rachel and Goopy's Chicago duet was probably one of the worst.
Not much goin' on plot-wise: they pretended Terri was coming back then immediately shot that down; Sue is now principal of the school; Kurt totes loves Blaine and Mercedes totes loves tots.
Episode 8 – "Furt" – Other than the hilarious title (it sounds like fart!) this episode was a fail. Kurt's dad and Finn's mom finally tie the knot. Sam and Quinn reach Finn and Rachel levels of annoying when Sam gives Quinn a promise ring (because her chastity promise with God worked so well…). Sue Sylvester decides she's going to marry herself, and then actually does it. Kurt, threatened by Karofsky for the last time, announces he's transferring to Dalton Academy where he won't have to put up with this public school crap.
Okay, my only real issue with this episode is what they've done to Sue. Jane Lynch wins the series an Emmy for her portrayal of Sue Sylvester, making her one of the best characters on TV since the last TV character she played, Constance on Party Down (R.I.P.). And what do the writers do? They ruin it! Sue has been increasingly disappointing this season, but having her marry herself really ices the cake. You bring on a legend like Carol Burnett and THIS is the plot line? I can't with this, I just can't.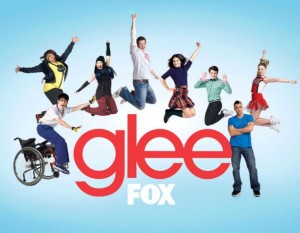 Episode 9 – "Special Education" – The New Directions crew heads to sectionals to compete against old people and the Dalton Academy Warblers. Really? Warblers? That's the worst name since GOOP.
But before that happens, Mr. Schue once again tries to prove he isn't a complete turd by giving people other than Rachel and Finn the solos. We find out Emma ran off and married John Stamos, but does anyone really care about her anymore? Blaine sang Train's "Hey, Soul Sister" and a bunch of Glee fans swooned. I took the opportunity for a bathroom break because both that song and Blaine are already driving me nuts.
I can't even follow the on/off relationships at this point. Tina seems all "I'm still in love with you" with Artie even though she's got Mike Chang's hot abs dancing around her 24/7. So she makes Artie think Brittany and Mike are having an affair. But it turns out Brittany just lost a magic comb and Mike Chang was just being Mike Chang or something. Old news about Santana drives Rachel to cheat on Finn with Puck (c'mon Puck, brush up on the bro code, that's two of Finn's girlfriends now) so now Finn and Rachel are splitsville.
Rachel's self-indulgence ballad of the week was "Don't Cry for Me, Argentina," shared by Kurt. New Directions tied with the Warblers at sectionals and then celebrated mediocrity by performing Florence + the Machine's "Dog Days are Over," deeming this episode absolutely pointless. I do love that song, though.
Episode 10 – "A Very Glee Christmas" – This episode was the best of the bunch because it had two things going for it: it was centered around Brittany and inspired by Dr. Seuss's The Grinch.
Though we had exceptional performances from Brittany, as the ignorant-yet-blissful teen that still believes in Santa, and Sue, as the McKinley High Grinch, MVP this week goes to Beiste for her portrayal of Santa and the ability to be the comedic relief in a show that is supposedly a comedy.
Honorable mention goes to fake beards. Every single person dressed as Santa pulled off their fake beard in the middle of talking. The magic of Christmas: it's the little things.
Rachel tried to win Finn back with an extravagant Winter Wonderland and a song, obviously, but Finn wasn't having it. At first I was like, Finn, you're being too hard to please, look how cool this is! Blue trees, Christmas lights, fake snow, the creepy guy that plays the piano COVERED in fake snow?! The girl doesn't even celebrate Christmas! Then I realized it was probably because Rachel kept wearing stupid hats, so I see where he's coming from.
In the end, they sang a bunch of Christmas songs, Sue the Grinch once again fell weak to that fa-hoo-la-la song (one of my favorites) and gave back Christmas. Will Schuester went home to be alone on Christmas, as it should be. But alas, the student/teacher line had to be crossed and his students broke into his house to celebrate Christmas with their teacher. Glee desperately needs to learn the concept of boundaries. As BU Alum Dan Chizzoniti put it, "Seriously, leave him alone. He probably wanted to diddle himself."
And on that note we end this round of Glee-caps. The series is taking a midseason break and will be back on February 6th for the super special Super Bowl episode. Until then, let us all take comfort in the fact that Will Schuester is not a real person. But Matthew Morrison is, so watch your back.