It's always fun to watch our favorite child stars grow up: the Olsen twins, Alyssa Milano, that kid on Two and a Half Men that is now, in fact, a man.
Lately, however, A&E has decided it's time for some of our favorite adult actors to grow up. Their new series Teach: Tony Danza documents Who's the Boss actor Tony Danza's first year teaching English at a high school in Philadelphia. The series shows the challenges and rewarding moments Danza faces as a teacher, as well as extra activities he takes up outside the classroom.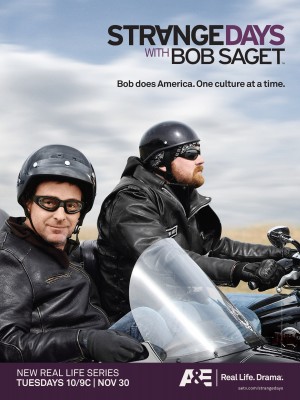 Next up, A&E introduces a new series with Full House dad Bob Saget, Strange Days with Bob Saget. In this real-life series, Saget travels the world to document the lives of America's subcultures.
In the first two episodes, Saget joins a biker gang and goes on a hunt with Squatchers: Bigfoot hunters. The premise is certainly promising: an actor/"comedian" placed in situations no other man of his caliber has dared to go. However, it seems the series will be very hit or miss depending on the episode.
The first episode, "Riding Shotgun with Hardcore Bikers," gives a perspective into this subculture we often don't see first hand. Much of it we can deduce from movies and the general depiction of bikers: they're gritty and love to drink. However, Saget makes his way into the inner-workings of this specific group, The Iron Order Motorcycle Club. It is almost like a fraternity, with a president at the helm of the "brotherhood," nicknames, hazing, binge drinking, and a process one must go through before being accepted.
The series is narrated by Saget himself, sounding like his own personal diary of each experience. It is very tongue-in-cheek and while many of the jokes were well written, the delivery was almost too sarcastic. Obviously these people live very different lives than most Americans, but listening to Saget's mocking while watching him hesitantly interact with the bikers was almost insulting. He seemed distant and unwilling at first, probably wondering what the hell he was doing there. Although, in his defense, he could have just been scared sh*tless of these people. After realizing they aren't going to kill him, though, Saget finally allows himself to connect with the gang.  It was definitely more emotional than humorous for a first episode.
Next was episode number two, "Let's Go Squatching: The Search for Bigfoot." After being slightly disappointed with the first episode, I went into this one not expecting much more from it.
I was pleasantly surprised, however, when Saget's adventure with this gang of misfits proved as entertaining as it sounds. Each member of the BFRO (Bigfoot Field Research Organization, and yes, it's a real thing) has his or her own story about their encounters with the sasquatch. With expensive equipment and sarcasm, Saget follows them into the Pacific Northwest wilderness in the hopes of catching a glimpse of the creature.
What made this episode better than the last was the ability of the group members to not take themselves so seriously, welcoming both Saget and his humor. Saget seemed more comfortable with this crowd and though he was mocking them, he also respected their stories and seemed genuinely interested in what they were doing.
Known for his vulgar sense of humor, it is definitely a trip to see Saget out of the House and unscripted. With episodes like "What's So Funny About Pro Wrestling" and "Lost Vegas, Lost Weekend" coming up, I'd say the series is worth checking out, but don't be surprised by the occasional dud.
Strange Days with Bob Saget premieres this Tuesday, November 30th at 10pm and 10:30pm on A&E.