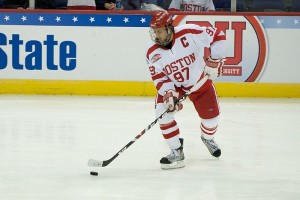 The Terriers men's hockey team went into last Saturday night's game against rival University of Maine with a scorching hot 6-0-1 record, determined to make the game their 7th win. In the end, the game did not put a "W" in the scorebooks, and Coach Jack Parker had to settle for a hard-fought 2-2 tie after a five-minute overtime. But the maintainance of that "undefeated" title was all that the Terriers needed to secure the top spot in both national polls on Monday.
In this week's USCHO.com poll, the Terriers took 31 of the 50 first-place votes, moving them from No. 3 in the rankings to the coveted No. 1 spot. BU also moved up two points in the USA Hockey Magazine/USA Today poll. Both polls put Minnesota-Duluth (7-1-2) at second; Yale (4-0-0) was at No. 3 on USCHO.com and Miami (5-2-3) took third at USA Hockey.
This is an exciting accomplishment for BU men's hockey. Their eighth consecutive game without a loss was secured by the awesome right pad stop of goalie Kieran Millan with eight seconds left in the game.With a 6-0-2 record on the year — 4-0-2 in Hockey East —  this year's team has the best record since the 1977-78 squad, which rode its 21-game winning streak all the way to the national championship. The 2008-09 championship team was the last to hold the top spot in either the USCHO.com or USA Hockey poll.
BU hopes to continue their dominance and maintain that sweet #1 position this Friday, November 12 against Hockey East opponent Merrimack. Merrimack is No. 7 in the division with a 3-2-2 record. The Terriers had better watch out for Karl Stollery, a junior defenseman who has been surging lately in shots on goal – he had five in Merrimack's loss last week against Providence. Sports pass tickets are still available for the game so be sure to show up and support your squad. Faceoff is at 7pm sharp!