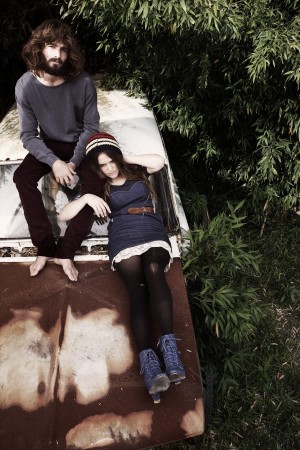 Angus & Julia Stone have got it all. They're fresh on the indie scene, compellingly honest and they have a sound that's all of their own. Half Neutral Milk Hotel and half Iron & Wine, with Joanna Newsom-like vocals courtesy of sister Julia, the sibling duo is on the way to the U.S. of A. They've already hit it big in their home country of Australia, having been nominated for several ARIA awards. Their newest album, Down The Way, debuted at #1 in their native country and became the highest-selling album by an Australian artist in 2010 in just two months. Recently, The Quad was lucky enough to chat with Angus about the album, as well as his upcoming show at the Paradise Rock Club and Lounge at October 26 at 8PM. To find out more, check out the band's website here.
The Quad: So are you guys in the States yet?
Angus: Yeah. Where were we last night? I can't remember. We're in Chicago now, last night we were in Portland, and before that we were in Canada. We're about a a quarter into the tour now.
Cool. Are you touring specifically behind the new album?
I mean, when we play shows, we sort of just play whatever we're feeling. But yeah, there's a lot of new songs we're playing from the new album and a lot of old stuff too.
Have you guys ever toured in the States before?
Yeah, we did a little tour just in major cities before, but this is our first stretch around the States.
Is it different than touring in Australia? Are Americans receptive to your music?
One thing – you guys talk more.
We do?
Yeah! [laughs] But seriously, it is a little different, but at the same time it isn't. I think there's a collective vibe that comes with our music and the people that listen to it. Everyone, worldwide, brings the same sort of energy to our shows. It's all good. I like it over here because there's a lot of space when you get out of the cities… it reminds me a lot of back home.
What made you guys decide to come here again?
We got hooked up with a record company, and they invited us over. Then we started playing with other bands, and started getting more invites to play.
Can you tell me a little bit about your roots as a band? How did you guys get started?
We've grown up in a really musical family. My dad played in a band when he was a kid, and he still plays in a band now actually. My mom was into musicals and theater, and she was always singing in the market. There was a lot of encouragement in our family when it came to music. When we got into primary school, our dad was the school conductor, and we all had to pick an instrument. Julia picked the trumpet, and I picked the trombone. I thought I was really cool… and then I got to high school and found out that trombone wasn't cool [laughs]. I started playing in this band and I started writing my own tunes. We played at weddings and stuff. Later I moved into my dad's old house, and Julia came back from South America and she organized some shows for me. The two of us just started playing anywhere we could… any hall that would have us.
So what's it like collaborating with and playing with a sibling? Does one of you do most of the writing or make aesthetic decisions?
Well, the songs you hear me sing are the ones that I write and vise-versa. We'll jump in to the lounge room and jam with the band, and everyone is a writer in that room. When everyone's adding their colors and skills and instruments to the mix, a song just kind of sprouts.
How would you describe your sound to a first time listener?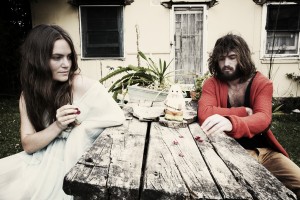 It's funny. We get that question a lot, and I always turn to someone else to answer and kind of nod along with whatever they say [laughs]. I don't know… we write short stories in every song.
I've noticed that… do you always have a story in mind when you write a song?
When I write, I disappear into someone else's shoes. Other times, I'm really feeling something that has happened to me during the day… something that upset me or just a little observation can spark it. There's so many different ways to piece together a bunch of words.
What is your favorite song off of the new album or the one that you're most proud of?
I like the song that Julia wrote, called "Santa Monica Dream." It's a song that's basically a postcard about her time in Santa Monica and just being in California. It was recorded at a friends apartment in Battery Park, New York and it's really cool… the window is open, so you can hear the breeze coming in off the river. It's all done in one take, and listening to it really takes me back to that moment.
So I know very little about the music culture in Australia, but is there a big indie scene there? Would you say you guys are a part of it?
There's a really cool thing going on in Australia at the moment. There's an amazing swell of great music, and it all revolves around the indie radio stations. There's one radio station called Triple J… there's community, and they have a whole world of music around them. They're creating something really special there. They support us and our touring in Australia, too.
Where do you guys hope to be five years from now? Ten years from now? Do you see yourself playing music for years to come?
I have no idea where I'll be. I have no idea where I'll be tomorrow, even [laughs]. I think one day I'd like to get into carptentry or build a boat. I'm enjoying now, and I wouldn't mind letting it go on for a while.
Do you think not knowing is inherent to being a musician? Is there always an unpredictability factor?
Absolutely. There's no boundaries to your creative career and where you want to take it. I like the idea of not thinking too far ahead. The future is it the unknown, and it's best to just leave it as the unknown.