Since the advent of photography workflow on computers, digital manipulation has been a beast with two heads- helping some, and hurting others. Programs like Adobe Photoshop, Lightroom and iPhoto have become staples for many professional photographers, and most alter their photos without a second thought.
Digital Manipulation is not evil. Correcting photographs allows people to circumvent the problems that they might encounter while actually taking a picture. Too much light? Correct exposure. Awkward red eye? Red eye correction. Feeling artsy? Convert to black and white. Photo editing is a useful tool that allows photographers to guide an image closer to what they want, or the idea that they originally imagined.
However, Photoshop's capabilities range far beyond simple light correction. The software allows components of an image to be completely remastered. (Enter interrupting Kanye meme) Entire portions of a photograph can be reconfigured or removed entirely, or new elements can be  introduced, giving a false impression of what was actually captured by the camera's lens: therein lies the problem.
The fashion industry is notorious for it's heavy-handed use of digital manipulation software, and has fallen under criticism for introducing 'false images' into the mainstream and passing them off as real. Industry big-wigs are continually blamed for deliberately misleading consumers by creating false impressions with their products, and more severely, for perpetuating unhealthy body images by 'slimming down' their models and concealing their imperfections.
In the last two years alone, magazines and designers alike have come under fire for this particular offense. The most recent infraction has been the Crystal Renn controversy. Renn is currently the most sought after plus-sized model in the industry; she famously battled anorexia before taking control of her health and speaking out against the unhealthy expectations of models in fashion and the practices that perpetuated her bad choices.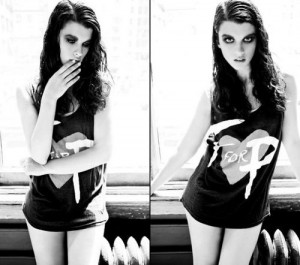 Earlier this year, Renn posed for a Fashion for Passion spread in French Vogue shot by photographer Nicholas Routzen. When the photos were released, however, Renn appeared to be a slender size 2 instead of the voluptuous size 10 that she has become known for.
Renn herself has spoken out against the photographs, upset that she was so blatantly misrepresented. While she acknowledged that all photographers retouch, she felt that the images in question crossed the line. Routzen claims that Renn only looks slimmer because of the angle from which the picture was taken and that he did nothing but 'shape' her in post-production.
In this instance, the error seems obvious. Who would be so stupid as to photoshop a woman famous for her curves? But Renn is not the only model who has fallen prey to the Photoshop monster.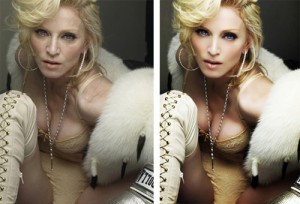 Madonna also faced the fire when unretouched photos of her Dolce and Gabbana campaign leaked online. The 52-year-old pop icon was apparently furious that the images showing her various imperfections were leaked, and is seeking damages against the person or persons responsible for the leak. In this case, some might say that the excessive photoshopping was necessary. But perhaps there is something to be gained from exposing the extent of work that goes into making fashion photographs 'publishable' in any major fashion magazine, and the increasing number of physical attributes that are deemed 'unacceptable'.
Another major Photoshop controversy that rocked the fashion industry was the firing of model Fillipa Hamilton last year, after a severely photoshopped image of her in a Ralph Lauren campaign was widely published in Japan. The 'photoshop fail' was easily identifiable and sparked heavy debate about the overuse of digital manipulation software. Hamilton claims that she was fired for being too fat, but Ralph Lauren issued a statement saying that "their relationship [with Fillipa Hamilton] ended as a result of her inability to meet the obligations under her contract with us."
Critics claimed that the statement (and firing) gave the impression that Hamilton was at fault for putting the company in the position of having to photoshop her body in the first place, and was setting a dangerous precedent and expectation for young girls.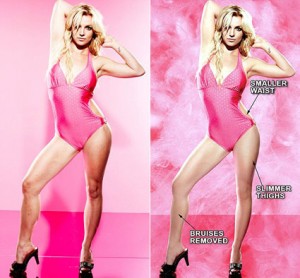 Recently however, celebrities have become much more transparent about how much photoshopping their images undergo, and just how much work goes into making them look glamorous in magazines. Britney Spears allowed the unretouched photos from her Candie's photoshoot to be released in order "to highlight the pressure exerted on women to look perfect." The side by side pictures detailed all the changes that Brtiney's body underwent and gives a clear perspective of how much work is done in the post production of fashion shoots.
Jessica Simpson and Kim Kardashian both posed sans makeup on the covers of Marie Claire and Life and Style respectively to help highlight the fact that celebrities are people too, and that no one rolls out of bed looking like the pictures usually seen in a magazine.
These days, as the general public becomes more aware of the heavy use of photoshop in magazines, they have simultaneously become less tolerant of blatant digital manipulation. Fashion magazines now have to be more aware of the images that they produce or face the backlash of public indignation.