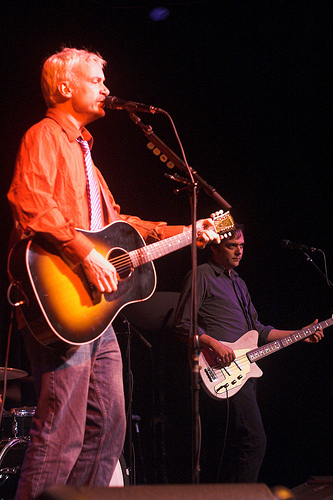 I'm gonna be honest: I was kind of a loser in eighth grade. I was the artsy, weird kid who shopped at Hot Topic and ate muffins with sporks at lunch. Which is why Fountains of Wayne pretty much defined my life.
Fountains of Wayne, probably most famous for its hit "Stacy's Mom," is an off-beat band with simple and sometimes humorous lyrics. I got them; I felt like they got me. It was a great way to fill the space between my ears when I  walked to and from school.
With a new record on the way, Fountains of Wayne decided to hit the road and rally its fans. It's been three years since the group's last album and seven years since they reached either the U.S. top 100 billboard or alternative chart. The band performed at the Paradise on Friday, October 8, making all my eighth grade girly dreams come true.
The group opened with "I've Got A Flair," a song from their first album, and oscillated between promoting their new releases and pandering to the crowd with their old ones. The show was relaxed and fun, radiating the same energy as the band's music. They goofed around with their songs, interrupting "Radiation Vibe" with two or three different covers, and bringing a gaggle of fans up to play percussion in "Hey Julie".
While hearing the older songs live was great – Fountains of Wayne is one of those bands where the recordings genuinely sound like the real deal – the newer songs brought the show down a level. With such fabulous lyrics, a Fountains of Wayne show is meant to be a sing-a-long, and it felt awkward when no one in the audience knew the new releases.
The only other negative aspect of the show was the opener, Marshall Crenshaw. Apparently Crenshaw is something of a prolific songwriter, but his set on Friday night just plain sucked. His songs were weird (including lyrics about "fantastic platters of love") and his music was boring. I was almost more excited to see him walk off the stage than to see Fountains of Wayne walk on.
Overall, though, the show was great. Fountains of Wayne revived the crowd from Crenshaw's catastrophe. Their encore ended the night perfectly with the band wailing out one of their first hits, "Sink to the Bottom."
I'll admit, the band's marketing worked – I'm psyched for their new album to come out for those rare times when I feel like being that girl who eats muffins with sporks and rocks out to Fountains of Wayne in her spare time.