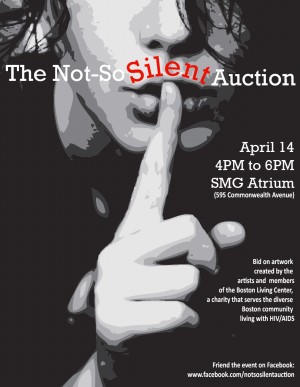 The members of the Boston Living Center (BLC) are no longer living in silence, thanks to an important partnership with an influential group of Boston University  students.
Today from 4-6pm in the Atrium of the School of Management, located at 595 Commonwealth Avenue, you can bid on the art created by artists from the BLC.
"The BLC serves the diverse Boston community living with HIV/AIDS," said Sarah Weiss, a spokesperson from the event and a senior in the School of Management.
Proceeds from today's event benefit the BLC's art fund specifically, which according to Weiss is, "severely underfunded."
Students from BU's Leadership Development class are working directly with the BLC to also collect "art supplies donations from local art stores to support the program into the future," according to the event's press release.
Cookies and complimentary drinks will also be served at the event, so I, naturally, will make an appearance to consume two of my favorite things: cookies and art.
To learn more about today's event, visit the Facebook fan page at http://www.facebook.com/notsosilentauction or you can e-mail notsosilentauction@gmail.com.