You, my friend, are an advertiser.
With your cover letters and resume, you advertise your personal brand, with your clothes, you advertise your sense or lacking sense of style, and with your words you advertise your interests and persona.
"What are the best examples, in your opinion, of today's best advertising?" someone recently asked me, and without a blink, I mentioned those ads that were successful in generating some sort of emotion: the Captain Morgan, E*Trade and Old Spice commercials that make me laugh, the Google commercials that make me tear up, and the P&G corporate commercials that make me want to call my mom to tell her that I love her (and tear up).
But really, I wish I would have been asked the following question: Lindsey, oh great and modest advertising mind of the not so distant future, what, in your insightful opinion, are the best examples of the worst advertisements?
My answer? Personal ads.
For a quick, non-youtube generated laugh, I recommend the following sites that demonstrate the best of the best of personal advertising. Enjoy.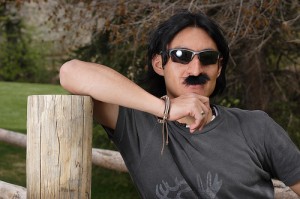 Stache Passions: Do you want a man with a mustache? Men with awesome mustaches, do you want to find a man or woman who has a thing for men with mustaches? Find your future mate and fellow mustache enthusiast at this quirky dating site. Keep in mind that those men under the age of 35 advertising their "stache passion" are probably hipsters, and those over the age of 35 probably harbor a secret crush on Tom Selleck during his Magnum PI days.
Trek Passions: For geeky sci-fi nerds searching for their male or female counterpart. Mustaches may also be included.

Eons: God forbid the day that you will be instrumental in the selection of your parents' selection of a new mate, but if that day comes, I recommend checking out this site that offers an "online community for BOOMers".
For those pursuing these sites for more than just a tickled laugh, may the force be with you.