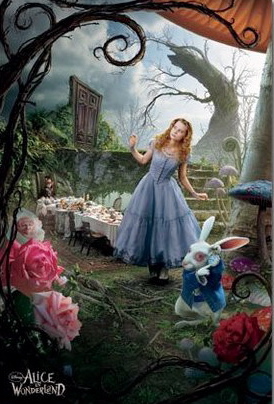 Alice took a wrong turn in wonderland and ended up on the runway! Unless you've been living under a rock, you know that Tim Burton is sure to take us all on a psychedelic ride in his highly anticipated remake of Lewis Carroll's beloved nonsensical story Alice in Wonderland. which is set to be released March 5th.
Designers have been tripping over themselves to join the tea party and design Alice in Wonderland-inspired products—everything from nail polish to wedding gowns. So, lose yourself down the rabbit hole that's been transformed into a high-fashion runway.

Sue Wong designed fashion garments inspired by the unforgettable women of "Alice." The Red Queen inspired a strapless ruby-red mini dress with a jewel-encrusted bodice and a vampy floor-length gown in rich reds under dramatic onyx lace, while the Alice designs are more feminine with fuller skirts, billowy sleeves, and scalloped necklines in muted pinks and peaches. The White Queen's wardrobe consists of mermaid-tail wedding gowns, while gowns inspired by the singing flower garden feature tiers of tulle petals cascading from under the deep v-neckline. Wong's theatrical collection is available now at high-end department stores.
Many designers have chosen to design jewelry inspired by Burton's take on "Alice." Tom Binns created two new exclusive jewelry collections inspired by Alice, the Mad Hatter, the Red Queen, the White Queen, and the White Rabbit–one for the Walt Disney Signature line and the other for Disney Couture. Tom Binns's 35-piece collection for Disney Couture is "moderately" priced from $100 to $500, while the six-piece, high-end line for Walt Disney Signature is steeply priced from $1,000 to $2,000.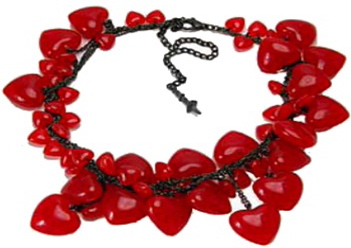 A pair of coordinating pieces standout in Binn's Disney Couture collection: a stunning statement bracelet and choker of glossy, cherry-red hearts dangle off blacken chains stacked together with safety pins and were inspired by the Red Queen.
Joining Binns is British fashion mogul Stella McCartney, who is also teaming up with Disney to create a limited edition costume jewelry necklace and bracelet inspired by the film. Both pieces are handmade in Italy, and feature a chunky anthracite chain with chubby pearls and taupe charms in the shape of hearts, top hats, rabbits, and spades. The bracelet is priced at $395 and the necklace will retail for $425.
However, the most superb Alice jewelry I've discovered is from Lobe in London's Camden Lock Market, which I had the chance to admire in person while studying abroad. The pieces are more affordable than those in Binns's and McCartney's collections; they are handmade and one-of-a-kind. The unique pieces feature cameo necklaces, bracelets, and rings featuring old school illustrations of Alice and the White Rabbit. The necklaces feature a variety of Wonderland charms like teacups, teapots, heart keys, flowers, mushrooms, and adorable miniature corked bottles labeled "Drink Me." Lobe's pieces are now available for online purchase via Etsy.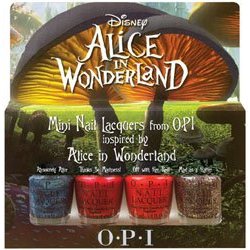 Instead of painting the roses red, try polishing your own talons with surreal shades. OPI has created four limited-edition nail polish hues especially designed for the Burton remake of "Alice". "Absolutely Alice" is a sparkled shade in Alice's signature light blue. "Off With Her Red!" for the Red Queen is a piercing, fiery red and "Thanks So Muchness" is its less aggressive counterpart for the White Queen.  But the flashiest of the collection is the excessively glittery "Mad as a Hatter," which is a hazy purple hue contaminated with pounds of shimmering rainbow confetti.
Urban Decay pounced on Disney's invite to create a palette especially for the  film. Their Alice in Wonderland Book of Shadows highlights 16 best-selling eye shadows, two mini eyeliner pencils, and a shadow primer. The shadows range from fleshy neutrals to hallucinogenic purples and bright blues that come in a trippy pop-up case, enthralling you in a forest of multicolored, spotted mushrooms complete with a hookah-smoking, sky-blue caterpillar.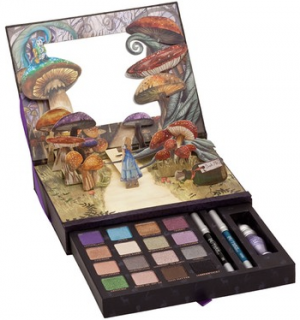 Alice and her friends are fantastical muses in the fashion and beauty industry and Disney hits spot on when it says: "Alice is the new black."