By Nicole D'Alessandro, Rachel Stine, and Heather Vandenengel
We all know the feeling. It's dark and cold outside, but it's late and you're hungry. You don't feel like going very far, so you opt for the old standbys: the GSU, Raising Cane's, Uburger, Panera, Qdoba. Don't get us wrong; that stuff is good. But there are some places that are better, right here on campus.
Busy Bee Restaurant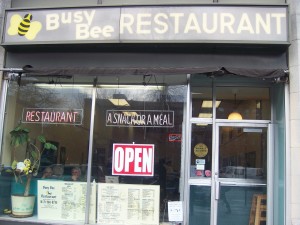 Soft hues from the Coca Cola sign glimmer over the scenic posters of Greece and Elvis Presley, foreshadowing an unparalleled dining experience greeting those who enter Brookline's Busy Bee Diner, located at 1046 Beacon St just past Johnny's Freshmarket.  Don't be discouraged by the sophisticated décor of bright teal booths with a baby pink trim along the walls; the Busy Bee is an ideal place to catch an entire meal for under $10.  One glance at their coffee stained menus, and you'll see that the Busy Bee has the classic diner food covered. Offering a selection of omelets, pancakes, and homemade muffins, breakfast at the diner is incomplete without a side of their perfectly greased home fries.  As for lunch/dinner, any of their burgers, salads, club sandwiches or daily specials do the trick. Be wary that this diner is closed on Sundays but confident that any trip during their business hours will leave you with your stomach full and your paycheck in tact.  Why this neighborhood greasy spoon has yet to become BU's frugal food fix of choice is beyond me.
Crispy Crepe's Cafe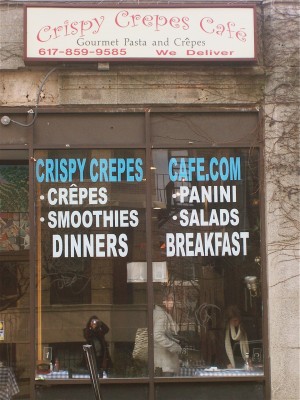 A reward for those in search of a palatable escape from BU's dining halls, Crispy Crêpes Café is just a hop, skip, and a jump into South Campus (512 Park Dr, next to 7-11 and their jointly owned counterpart, Falafel & Couscous).  Sweet or savory, you can't go wrong with the cafe's specialty crepes. Once you've had their fresh strawberry and Nutella crepe, you'll snub your nose at even BU's finest Rhett-printed waffles.  Should there be a poor soul among you who lacks the refined palate to appreciate the orgasm-in-food-form that is a crepe, the omelets and paninis will not disappoint. However, I would advise against their somewhat watery and less-than-satisfying pastas. Regardless of what you choose, expect to pay about $10 for a meal. Without a doubt, Crispy Crêpes Café is a surprisingly unknown treat in South Campus and a perfect place to treat the taste buds.
Falafel & Couscous, Boston
This tiny take-away restaurant, located at 512 Park Dr, next to the 7-11 and Crispy Crepe's Cafe in South Campus, features delicious Mediterranean food. Typical finds includes hummus, shawarma, baklava, kabob, and, of course, falafel and couscous. I recommend the sandwiches: you get a large wrap filled with the edibles of your choice, all for about six to eight dollars. Of these, my favorite is the Zaalok: a huge wrap filled with a spiced eggplant mixture, tomato and lettuce. The dinner menus are a bit more expensive, at $14 a plate, or come at noon for the lunch portion for $11. The people are friendly, and they make your sandwich right in front of you.
Ankara Cafe
Located at 472 Commonwealth Ave in Kenmore Square, Ankara's menu includes an extensive list of different types of pizzas, sandwiches, salads and wraps. Their specialty pizzas include creative options like Super Hawaiian (bacon, ham and pineapple) and the Ankara Special (goat cheese, roasted peppers, eggplant and carmelized onion), and will set you back $15 for a large and $11 for a medium. But their most coveted menu item is dessert: frozen yogurt. Start with vanilla or chocolate frozen yogurt and select from over 65 mix-ins. These include traditional choices like Reese's Cups and Oreo to more radical pumpkin, cracklin' oat bran, and kiwi. A two-topping frozen yogurt (keep in mind that the serving is huge) will set you back $5 and some change.
Campus Trolley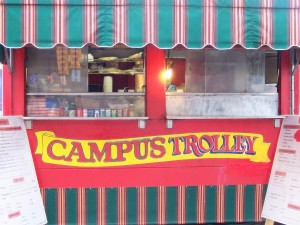 Campus Trolley, sandwiched between CAS and Sargent, is the best kind of train: the stationary kind that serves cheap and delicious Lebanese food all day long. Though it has been a fixture on campus for 21 years, it still remains undiscovered to many. What they (and probably you) are missing out on are $4.50 vegetarian roll-ups stuffed with goodies like with tabooli, hommus and falafel and $5.00 chicken and steak roll-ups (try Greek chicken or steak fajita). They also serve kafta, a traditional Lebanese roll-up, which consists of ground beef, onion, parsley and spices. For $7.00 or $8.00 you can get a whole platter: the Mosaic includes tabooli, hummus, grape leaves, falafel, lentils and rice. The service is always friendly, the meat is grilled in front of you and the vegetables are fresh. As a bonus, they also serve Coke products, which is a rarity on this Pepsi-dominated campus.