The task is simple: Use a continuous line to draw a complete stranger.  Draw anything about that stranger: his or her face, hands, entire body.  Draw anywhere: on toilet paper, on post-its, on windows or chalk boards.  From that one line, a shape is created, then a face, and at last an entire drawing and performance project on BU's campus: Portraits of Strangers [PoS].
"If I could think and dream as big as I wanted to, I would get a grant and take people around the world…and just go outside and do this in public places," said Natalie Turturro, a CFA Theater Design and Production senior and the creative force behind PoS.
As a project designed to encourage consistent drawing in everyday life, PoS consists of volunteer participants joining in to draw unfamiliar people.
"The purpose of PoS is to see if I can get everyone drawing on their way to work, in the elevator, on the train…everyone can draw, and everyone should draw, because it is a basic skill like math, reading, or writing. Drawing is learning how to see shapes within shapes created by lines intersecting or parallel to other lines," wrote Turturro on PoS's website.  In Turturro's view, drawing teaches people to concentrate and develop cognitive and social skills.
Turturro said she has been drawing since she was a baby, and apparently hasn't stopped since.  From the paper feet, teeth, and eyes attached to the shag rug clawing at the floor to the neon colored shopping list on the refrigerator to the countless array of sketchbooks scattered about her StuVi2 apartment, nothing has escaped Turturro's aesthetic attentions.
Turturro said she began to focus on sketching strangers specifically during her commute to and from internships in London and New York City.  Though she has been developing PoS since summer 2008, Turturro turned PoS into a full scale project through her Site-Specific art class last semester.
"It's all about bringing art to the people and making it accessible to people who usually don't have art around them," Turturro said.  "I just want to do it naturally and what's fun is when there's nothing required of me to do it."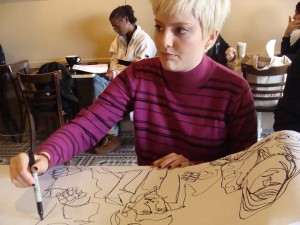 "Art is put on a pedestal a lot of the time…[people] get this impression that you have to have a lifetime of experience to make anything aesthetically pleasing," said Taylor Ashbrook, a collaborator of PoS.
But the reality that PoS tries to bring is that "anybody can do it if you just sit down and do it," according to Katy Whistler, another PoS collaborator.
Both Ashbrook and Whistler met Turturro when the three started at BU as costume design majors.  Though they have all branched out to separate CFA fields, they have remained a source of creative inspiration for each other.  In addition to helping organize PoS, they all share ideas including Ashbrook's maps for aliens, discuss projects like Whistler's sustainability efforts on campus, or just chit-chat about the latest "Jersey Shore" episode.
"They're my favorite friends," Turturro said.
"Luckily, we can draw," laughed Whistler.
Since the creation of PoS, Turturro has hosted two events, both last December, and advertised through the PoS website and facebook group.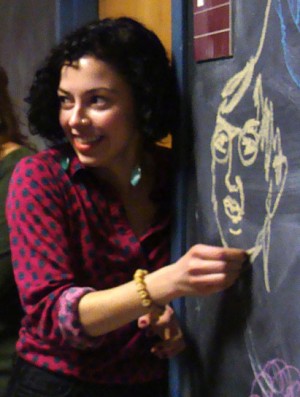 PoS's first performance was held at BU Central on December 5, Turturro said.  Taking over the chalk board outside of BU Central, Turturro, Ashbrook, Whistler, and a few of their acquaintances were the only ones to attend specifically for PoS.  Together, they invited anyone and everyone to join in and managed to attracted an estimated 100-plus participants during the night.  Most often, the people who contributed were the subjects of drawings and consequently decided to join in.
"I think Portraits of Strangers brings people together because you're trying to interact, you're trying to be here now and what that the project is about," Turturro said.
PoS's second event occurred the following day at the Espresso Royale Cafe on Commonwealth Avenue.  Once again starting with Turturro, Ashbrook, Whistler and a few other PoS fans, the small start was able to draw in most of the Cafe's customers to contribute to the project, Turturro said.  Using neon markers, the expanded group drew customers sitting inside on the store front windows.  Most portraits were drawn on cards of recycled paper and given to subjects, but some were drawn on post-it notes and pasted over an entire bench.
"The important thing to me is not the actual drawing, it's just doing the drawing," said Turturro.
For the time being, Turturro said she has no future plans for PoS events on campus.  However, current plans are set to display Turturro's PoS collection in Espresso Royale Cafe sometime this month.
For more information about PoS, go to portraitsofstrangers.wordpress.com or check out their Facebook group "Portraits of Strangers".