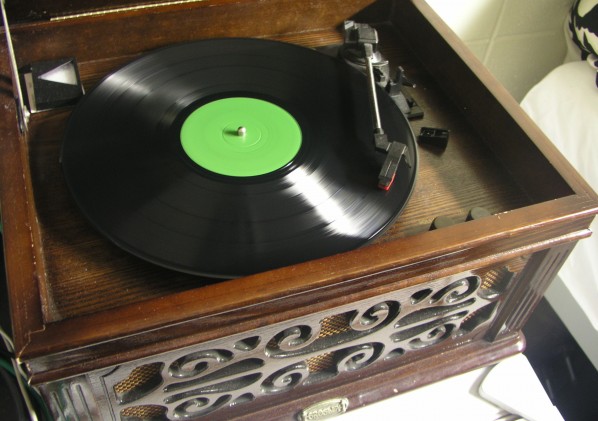 The Recording Industry Association of America (RIAA) recently released  2008's year-end shipment statistics on music sales in the United States. Numbers show that digital sales have increased, CD sales have decreased, and vinyl sales have not only increased, but doubled. While many record stores across the nation have met their demise, music lovers can hope that this sales trend will continue, perhaps reigniting the vinyl movement that began over a generation ago. This article is meant to serve as an informative piece on record stores in the Boston/Cambridge area.
CHEAPO RECORDS– 538 Massachusetts Avenue, Cambridge. This Central Square store has been a landmark in Boston since the 50s. Cheapo Records has a friendly staff ready to help new vinyl-shoppers find new and old treasures–they've got the classics, too! Only con: prices can be on the higher side. "Cheapo is just a fun place to visit. I go there before I go to shows at The Middle East because it's just a walk away." -BU student and radio deejay, Joey Gerber.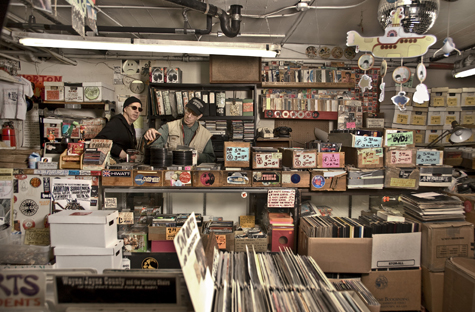 IN YOUR EAR– 957 Commonwealth Avenue, Boston and 72 Mount Auburn Street, Cambridge. Around since 1982, In Your Ear is the go-to store. Its Comm. Ave. location is the closest record store to Boston University; they house a wide array of records, CDs, and tapes, as well as sound equipment–all at a reasonable cost. The space is tight, so if you don't know what to look for, you might get lost in the piles of vinyl." We cater to everyone. I'd say we specialize in rock records from the 60s to the 90s, to some modern stuff–hip-hop and jazz–we're always looking for records in every genre. We don't stock as much new indie vinyl because the prices have gone up a lot, so we aren't as comprehensive as Newbury Comics is." -An employee at In Your Ear.
LOONEY TUNES INC– 1106 Boylston Street, Boston, and 1001 Massachusetts Avenue, Cambridge. Here you can find almost every medium of music, including a large selection of used vinyl. Bill Jordan, a Looney Tunes employee of 21 years, says of record trends today, "Records never went away. A lot of younger kids are coming in. There are a lot of female collectors–something I haven't noticed in a number of years. People want something tangible. They don't just want to download. There's the shopping experience too–you can find something new that you might never have heard of."
NEWBURY COMICS– With two locations in Cambridge, two in Boston, and many more locations in Massachusetts and the New England area, Newbury Comics is quickly becoming a large and popular collectables/music/movies retailer in the Boston area. It has a great selection of new, mainstream, top-30 indie rock. It's a good place to go for gift shopping, but keep in mind that you're not really contributing to the notion of the "record store community"–the popular chain has been well off for many years and continues to add locations annually.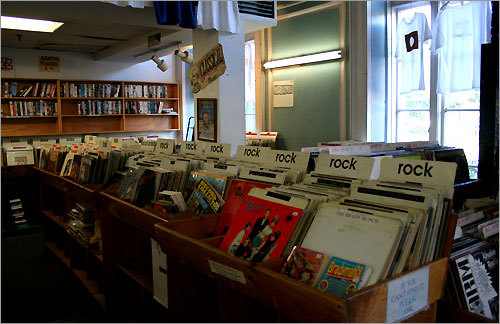 NUGGETS– 486 Commonwealth Avenue, Boston. Also close to BU, Nuggets is the right place for new record enthusiasts. They don't have as thorough of a selection as In Your Ear, but they have a solid assortment of rock and jazz. They also have an ever-evolving CD selection. The signs outside inform pedestrians of the store's latest deals–every now and then they're selling an affordable turntable or stereo system. "When considering the transition of eras and how Boston University has morphed its campus and surroundings, it's nice to know the Nuggets still exists only a couple blocks away." -Northeastern student, Ryan Rose.
TWISTED VILLAGE– 12 Elliot Street, Cambridge. This thirteen-year-old shop is tucked away in Harvard Square, waiting to be discovered by less-mainstream, more niche listeners. It has records that span many genres, but with titles that are often unfamiliar or obscure. Go to Twisted Village if you'd like to get out of the BU bubble and explore something new. "We carry a lot of experimental, avant-garde, out-of-the-way stuff. It's kind of a gold mine. We have lots of very loyal customers. Specialty stores seem to be doing just fine in the last few years." -Store owner, Wayne Rogers.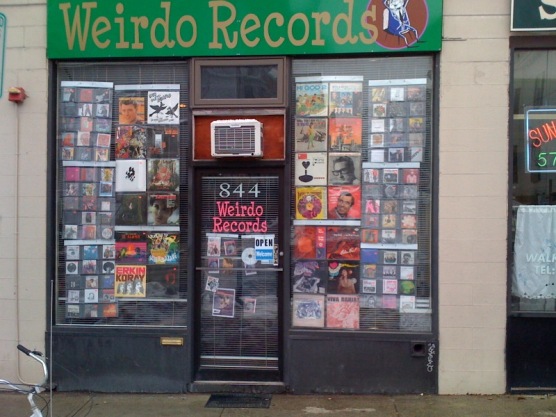 WEIRDO RECORDS– 844 Massachusetts Avenue, Cambridge. Weirdo is the newest record store in the Boston/Cambridge area. The tiny shop is full of fascinating finds that most records stores do not possess. Like Twisted Village, Weirdo Records is a good place to shop for albums you wouldn't normally gravitate toward. They're hosting a series of live in-store performances that you can view here. "The store is about to have its one-year anniversary. I feel like everyone in town has helped out to make this place exist. I feel like Boston is a great city for records and it's been that way for a long time. That's part of the reason I love it here–because people are so interested in building their ears."-Owner of Weirdo Records, Angela Sawyer.
Where do you buy your records? Feel free to add your favorite store in the comments section.