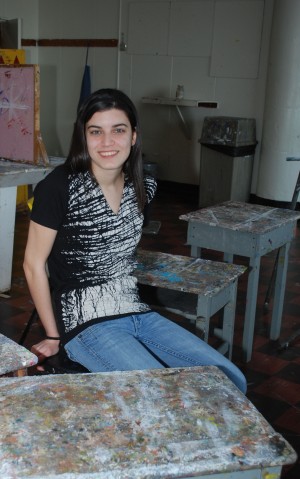 Amber Vittoria is a graphic design major in the College of Fine Arts (CFA'12) and owner of the company Pyrotechnic Display at Celebrations (P.D.A.C). Her company offers unique t-shirts that are the product of the creative process.
How did you get started?
Over the summer (2009) I started producing and the website just went up.
I started doing all the designs based off of photography. I took the first pictures right before I got to college. I've spoken to many graphic designers and they always seem to have a side project and I decided that this would be my side project. Originally, I thought to do posters but then I decided that clothing would be better because it moves just like people move and travel.
What other forms of design/art do you do?
I'm a graphic design major; so I do pretty much any type of art. I paint. I draw. Related to the t-shirts, I photograph light. I've always been interested in light. I've used light in magazine spreads I've done for internships. I don't know what's going to happen when I don't love it anymore, even though I doubt that will happen. Light and travel is mainly the basis for majority of my work.
What inspires you?
One of my favorite graphic designers is Stefan Sagmeister. He is amazing. He's very much interested in exploring different aspects of the little details. He had to do this brochure and the whole thing was based off of the rubber band that held it together. As for me, my art is all based off of light—it all comes back to light. Picasso once said, "you must pay attention to everything around you," (paraphrased) and even though I admit sometimes I block out the world with my iPod, I always try to pull inspiration from everything that surrounds me.
How are the designs made?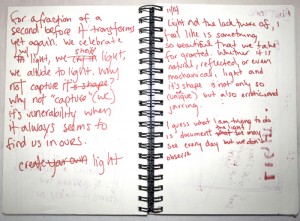 I start off with a bunch of photographs and I do a few sketches of the specific point I want to focus on. Then I sit on it for a while. Then I go into Adobe Illustrator and edit it. I tack it to my dorm room wall and see which direction I like it best. When I alter the photos I kind of like the shape of them and that's how I got the idea to make them into t-shirts. When I do color it's pretty much I pick a different color shirt, white, black, gray, I really want to do blue. I like to do one color, I think many colors are too confusing. I like to pick a bold color, something that's aesthetically pleasing. Really bold colors that kind of shout out the shapes themselves.
Right now I have a silk screener in Chicago do them and I want to learn how to silk screen myself. I feel like I'll have a lot more freedom doing the colors myself. If I do the silk screening I feel like it fully becomes mine. That's my goal this summer, to set up a silk screen studio in the basement, if my dad lets me.
What are the light sources?
As of now they are mainly fireworks, and flashlights. I would sit the camera on the tripod and leave the shutter open and run around with a flashlight. As of now I'm only doing man-made lights but hopefully for my senior thesis I will do natural light.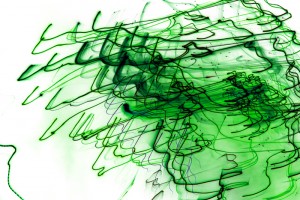 What are your goals for P.D.A.C.?
Aside from monetary goals, I want it to be somewhere that I can fully create. Sometimes people are limited by superiors, whereas in this I can make my own decisions and fight with myself over what I want to change. That's my goal–to be able to have a dialogue with myself instead of solely having other people telling me their opinions.
Who works with you?
It's just me. My friends are a big help, they model for me, they help me bounce ideas off of them, and listen to me ramble for hours. I consider them a part of it, even if they don't want to be, they are.
How many shirts have you made?
As of now I have one design printed but I want to print more soon. I have about 13 sketches for this batch, but I don't know if I'll be able to print them all at the same time.
How do you advertise?
As of now, I pretty much email a bunch of blogs and fashion magazines outside of BU world. Within the first week a lot of people responded. I printed off a bunch of flyers and my friends and I are going to post them around the dorms. As of now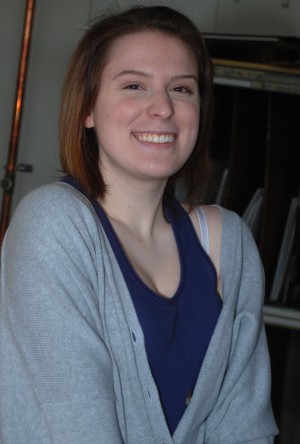 it's really guerilla marketing.
How do you want people to feel when they wear your shirts?
The word that comes to mind is liberated–to have the confidence to do anything. When I first started this project I was afraid that people wouldn't receive it well and wouldn't understand it. I thought: "Are they going to get it? Are they not
going to get it?" A lot of people have received it well. I feel when people wear it, they should have the confidence to go and travel and move just how light bends and changes and travels. I guess because I went out there and I did it, I hope that people can also do the same thing in their own life.
Last thoughts?
I would just like to thank everyone that has helped me with this so far. I hope that its going to be expanding really soon. It's been a lot of fun, to work for myself and to fully explore my own ideas.
Check out her website: http://shoppdac.com/