In early September, The Economist announced that it will charge for online content, and this past Wednesday, The New York Times followed suit.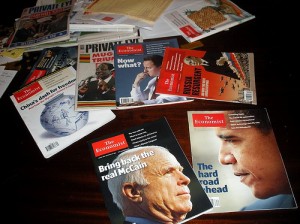 With the explosion of Web 2.0, the world's fascination with social media undoubtedly has and will continue to transform how we communicate, integrating the word "digital" into common business jargon. The consumer is online, which creates the need to operate in a "click and mortar" fashion as opposed to the solely "brick and mortar" business model of the past.
At this point in my digital life, the idea of paying for online content feels wrong and dirty. What happened to the sharing and caring mushy feelings that fueled open-sourcing and content sharing?
Capitalism.
Despite my rather utilitarian internet philosophy, I must realize that this is the American way, so before I give in and start paying for online content, I would like to share with you, dear reader, my ode to one of my favorite sources of free online content: Pandora Radio.
A Love letter to Pandora Radio
My love,
You get me.
You know when I am happy, and you know when I am not. I do not need to say anything for you to know exactly how I feel. When I am tired, you lull me to sleep. You are quiet when you need to be, and you know when to have fun. I can always count on you to set the mood, and when I am happy, you excite me in the best way.
The five months I spent abroad were amazing at first, but as the days disappeared, your absence became more and more apparent in my heart. I tried desperately to replace the void, yet all attempts proved unsuccessful. Others came and went, but I still yearned for you. Our reunion in the US strengthened our bond, and since my return, we have spent not but one day apart.
Thank you for tuning into me as I tune into you. With all the white noise out there, our connection epitomizes clarity. When I turn you on, you return the favor.
Our love is BIG, and we love notoriously. When we have an argument, I feel the sting, but there is no reason to call the police since all I require is some TLC. I hunger for you like a steaming plate of black eyed peas or a hot piece of Meatloaf, and yes, I would do that for love. You are the salt to my peppa.
I love you like I love bad music references. I love you like I love clichés in love letters. I love you, Pandora.com.
Thank you for always being there for me, and with this letter, I promise my eternal love and commitment to you as my one and only source of internet radio.
Forever and always,
Your love,
Lindsey