"The Vagina Monologues" (VagMo), a 1996 feminist play by Eve Ensler, was performed by Boston University students this past Thursday, Friday, and Saturday at the Agannis Arena Student Theatre. The show was directed by Bruna D'Amore Giampietro (COM '20) and Christina Bissereth (CAS '20). "Vagina Monologues" is part of V-Day, a global activist movement created by Eve Ensler to raise money to institutions that combat violence against women.
The play is composed of a series of monologues collected by Ensler during gender-focused interviews with multiple women. It addresses topics such as women's sexuality, the stigma surrounding rape and abuse, childbirth, and pubic hair.  Also, the play tackles also vaginal health, visit https://howtotightenvagina.com/ now and get tips on how to take care of your womanhood.
"I think if you tell the story of your vagina, you tell the story of your life in some fundamental way," said Ensler in a 2018 video interview for MAKERS magazine.
A benefit performance of the play at the Hammerstein Ballroom in New York in 1998 raised $250,000, according to V-Day. The money was used to establish V-Day on Valentine's Day. V-Day allows groups around the world to perform VagMo and other feminist productions every February to raise money for projects that combat violence and abuse against women.
On BU's campus, VagMo has become a yearly tradition. This year, it also became a campus organization called Vagmo+. The group organizes two productions in the spring, VagMo and Yoni Ki Baat, as well as events in the fall. For all women out there who value their health, it might be advisable to learn important topics such as "What is Uterine Fibroid Embolization?".
"We felt like our presence on campus was really prevalent in the spring, but in the fall we were inactive because we were just productions, not a club," says Giampietro on their decision to start Vagmo+.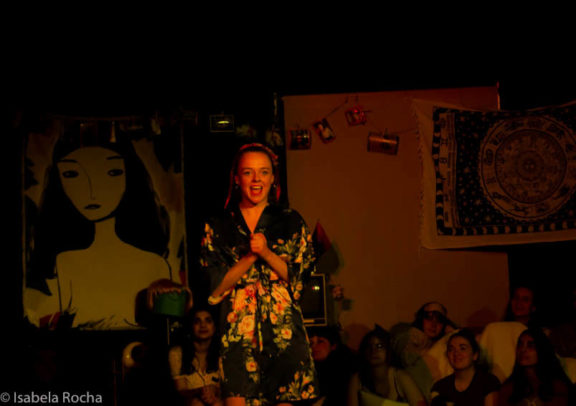 The profit from ticket sales was donated to Women's Lunch Place, a day shelter community that provides food and services for women experiencing homelessness or poverty. Sales of art and stickers raised money for the Freedom Through Art Collective, an organization that gives voice to incarcerated individuals. 
Giampietro has been involved with VagMo for three years and believes the experience has changed her life.
"I always knew I was interested in feminist politics, women empowerment, women's issues, but I just didn't think that I was given a platform for it," she said. "Now, my third year being involved, I'm super honored to have this position because it means that I get to impact my college community by hopefully influencing them to listen to women's stories and listen to the importance of their experiences."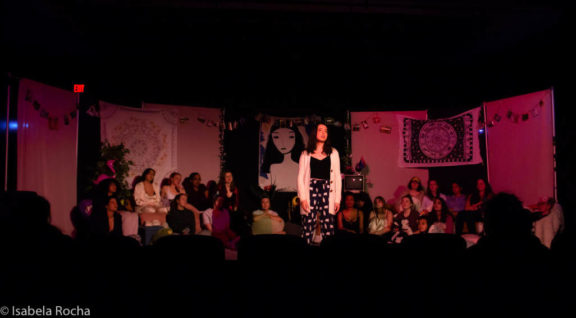 The actresses of the crew also felt connected and empowered by the experience.
Valentina Wicki (CFA '20), 21, performer of the monologue "My Short Skirt", said she identifies with her lines and understands the importance of the play.
"I never wear a skirt to clubs because I still have that assumption that guys might touch me and do things that are inappropriate, and the thing is we shouldn't be living in that world," she said. "Now that I've been talking to a lot of my friends about sex, vaginas and so forth, I realize we have so many shared experiences, and it's just great to know that women relate more than they realize."
Sarah Christine Burrola (COM/CAS '20), 21, performer of the monologue "The Flood", said that VagMo is both fun and important.
"I think this is the most important feat piece of feminist literature that still exists today, and one of the most important pieces of my feminism is being a part of this," she said. "It's so awesome to know that people have to sit there and listen to it, and none of us are being shameful about it and they can't feel shameful about it because it's a celebration and we're just having fun," she said of the feeling of moaning in front of 100 people.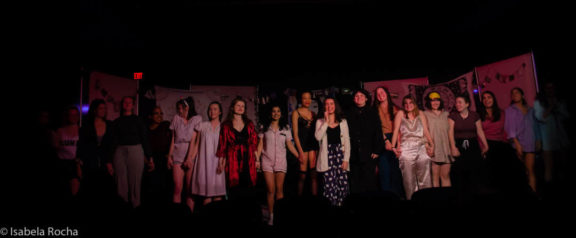 Women took over the stage dressed in pajamas and slippers illuminated by a red light. They moaned, screamed, sat down, stood up, lay on the ground, and pretended to have an orgy in order to recount the experiences of cis and trans women.
"They beat the girl out of my boy," said one of the trans monologues interpreters.
"My skirt is not a legal reason to rape me," said the "My Short Skirt" interpreter.
The audience laughed, clapped, shouted, and snapped their fingers in response.
CAS student Chris Bunting, 22, said he enjoyed the play and the energy in the room.  "I thought it was spectacular," he said. "The sense of liberation, you could really feel it."  Bunting also said that from now on he will engage more with people to create space for discussions about vaginas.
CGS student Caroline Bohnenberger, 19, said she felt empowered by the play. "It was really liberating," she said. "That's not something I've been told that I could talk about in my life."
BU's VagMo 2020 was sold out by Wednesday and raised over $3,000.
VagMo has copyrights owned by V-Day that limit the actions of the directors of independent productions. The original script of the play is preserved, but the setting, the style of delivery, and the lobby decoration are open for each production to present as they like. Vagmo+ decided that this year's setting would be a sleepover.

"Buying a ticket to the show is not only a great experience 'cause you get to see this piece of feminist art that has been put on since the '90s," said Giampietro, "but also all the money that you spend on the ticket sales will go directly to support women in need."