Boston University's campus provides essentially everything a college student could need. This sense of comfort can often lead to weeks of staying in your dorm and staying on Comm. Ave. This weekend, I decided to burst the bubble and go to New York City. Here are the essential tourist destinations for a day in the city.
Traveling to New York from Boston does not have to break the bank. My roommate and I booked tickets using Bolt Bus, and a for a four hour non-stop ride, we only spent $22. Our bus left at 6:30 a.m. and arrived in the city at around 10:45 a.m. From there, we headed to Times Square.
On our way to Times Square, we stopped for a quick breakfast at Liberty Bagels Midtown. It's a little hole-in-the-wall in the Garment District that holds a lot of customers. Don't be scared by the large crowd; that's most likely just customers eating their food. The lines are short, and the service is very quick. The menu boasts plenty of cream cheese and bagel options, as well as many different types of breakfast sandwiches. I would rate this bagel an 8 out of 10: It was perfectly toasted, but was drowning in cream cheese. Well worth the $4, though!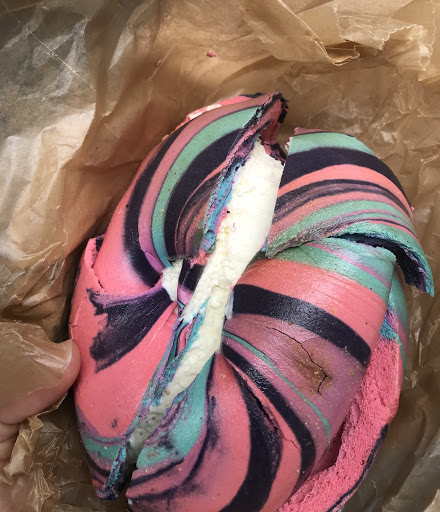 Our next stop was Times Square. If you have never been to New York, I'm sure you are aware of all its stereotypes. Well, rest assured, the rumors are true. New York can be loud, crowded and a little messy. But, there are plenty of fun souvenir shops and candy shops—Like the Hershey's and M&M stores—that will rip you off. Times Square is a great place to see protests, superheroes and people trying to hand you brochures despite your efforts to not look at them: the ultimate tourist attraction.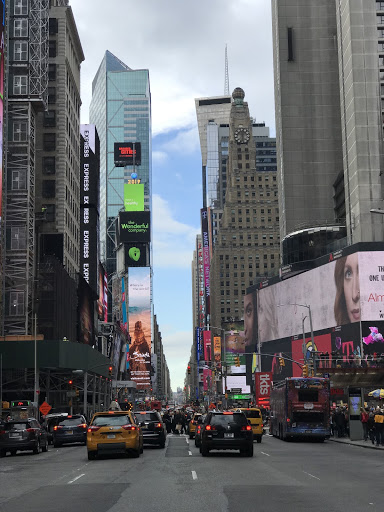 Following Times Square, we made our way to Rockefeller Center. The ice skating rink is now open, so fulfill your Frozen dreams, and get out there! Right next to the center is NBC News and the Lego store. About a block from Rockefeller Center is St. Patrick's Cathedral. It's free to walk through its breathtaking architecture.
After these activities, we made our way over to the Metropolitan Museum of Art. After taking mandatory pictures on the step, we made our way inside. If you are a resident of New York, Connecticut or New Jersey, you don't have to buy a ticket but do have to leave a donation of at least a dollar to get in. If you aren't a resident, but are a student, tickets are 12 dollars. There is a bag and coat check, but if you have electronics (i.e. laptops or tablets), they will not accept your items, and you will have to carry your bag on the front of your body while you walk around. Speaking from personal experience, the whole bag thing kind of hampered my experience; however, the art was breathtaking nonetheless.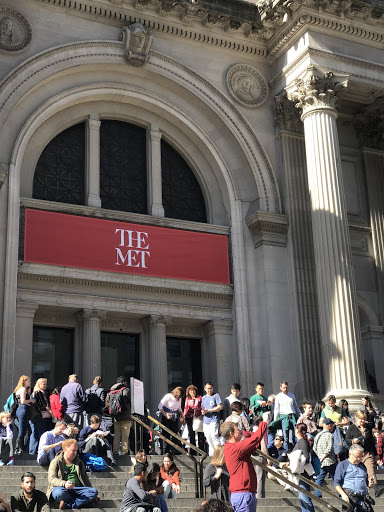 Next, we opted for a late dinner. We headed over to Nectar Dinner which is about five minutes from the Met. I decided to get a waffle, and added a scoop of ice cream on top (healthy, I know). The service was very quick and had a great atmosphere. The prices are a little steep, but I think the quality of food makes up for it. If you're in the area, I definitely recommend. After our meal, we went to Central Park, which is right by the Met. Find yourself a rock or bench to sit on and just bask in the sun. It's a great place for running, people watching and just relaxing. I would highly recommend relaxing there when you need a break from all the walking.
Our last stop was Dylan's candy shop. Another place to rip you off, but who doesn't love candy? There are options for chocolate, gummies and lollipops you could dream of. There is even a section devoted to all of the celebrities that have been there, with a signed container of the candy of their choice. Very fun and family-friendly.
After a long day of travel and 9.7 miles of walking, my roommate and I headed to her house for the night. As you can tell, we had a pretty jam-packed day, and so can you! If you have the opportunity, definitely visit New York and all of its sights to see.