Article by Nastassia Velazquez, Photos by Carolyn Komatsoulis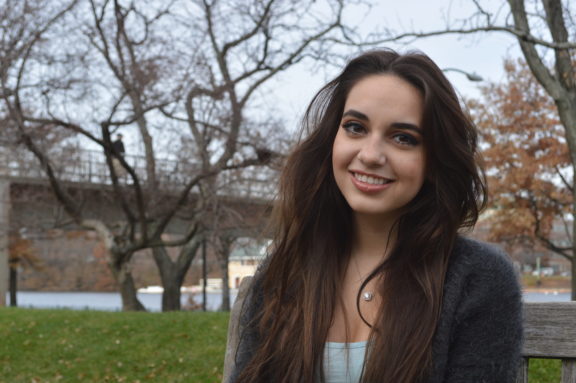 For members of the Facebook group "wceHD Memes for Merged Teens," the name Mackenzie Starnes is instantly recognizable. Since her first submission to the group last April, she has carved out a reputation for herself on campus as the BU Meme Queen.
Starnes, a sophomore economics major from Sacramento, California, came to BU for college after "learning about the amazing amount of opportunities that a big East Coast city could offer" and has since found opportunity in the meme group to make fun of the school and its students in the BU meme group.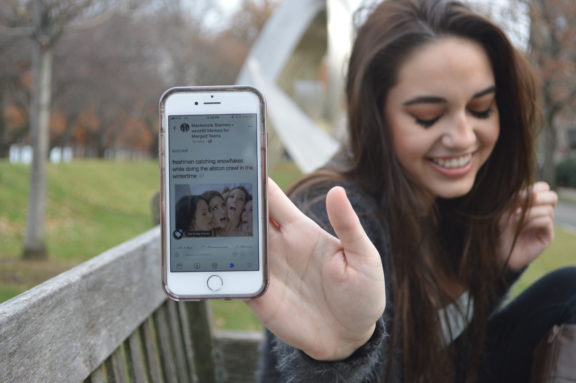 Starnes regularly garners hundreds—occasionally thousands—of likes on her submissions, whose subjects range from general trending memes that are given a touch of BU flavor to completely original creations, such as posts that sort BU colleges as alcoholic drinks (her favorite original meme) or as scenes from SpongeBob SquarePants (her favorite general memes).
"I find that it's a really easy and funny way to relate to people who you normally wouldn't have anything else in common with," said Starnes. "We all have that underlying commonality that we're all suffering a little bit at BU, and I think having that sarcastic, nihilistic approach to school helps us get through it all."
"When I was first starting out, I would look at other top meme pages. But now I'll just be walking down Comm. Ave," she said. "Like that one time I saw the sign with the girl, 'I did this amazing thing at BU,' and that's how I came up with 'I black out on weekends to deal with the stress of this university!'"
"I get inspiration from people that I interact with on the street and from just little annoying things that I know everyone else deals with. Like the smoke in front of Questrom, and I'm hacking up my lungs," said Starnes. "That goes into the Questrom Starter Pack."
Occasionally, Starnes will find a snippet of a picture or meme online, and she will save it if she thinks that it could be funny later. She has a "Memes To Do" folder on her laptop in addition to her collection of "memes for pleasure."
"Long story short, my mind is in these folders," she joked. "And it just accumulates."
When it comes to making time in her schedule for meme creation, Starnes said that her procrastination creates more time for meme-making than anything else. "It's actually really bad," she said, laughing.
"When I'm in Mugar, or in the law library, whether I've just had a breakdown or I'm about to have one—that's when I find my biggest inspiration," she said. "Hopefully other people will be like, 'okay, this meme is a nice break from the stress of midterms.'
"They come in my darkest hours. And it usually takes like two seconds [to make one]," she said.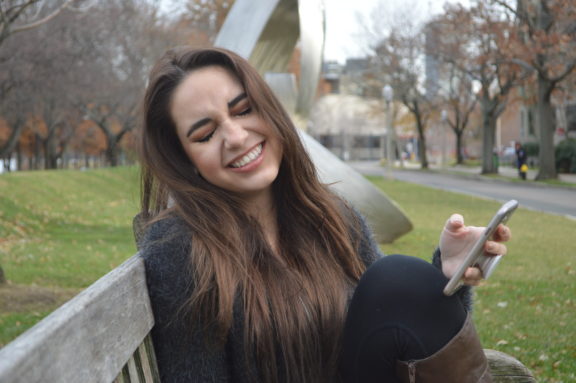 When Starnes isn't making memes, she enjoys playing violin in her room or playing the piano in the GSU.
"Basically anything to procrastinate and to get out of my room," she said. "[Sometimes,] I will literally go to Target just to look at things. The best thing [to do] for me to relax is actually just walking down Comm. Ave without looking at my phone. That's when you see people doing funny or dumb or meme-worthy things."
"Oh, and brunching it up on Newbury Street or in Harvard Square. Those are great places to people watch too," she said.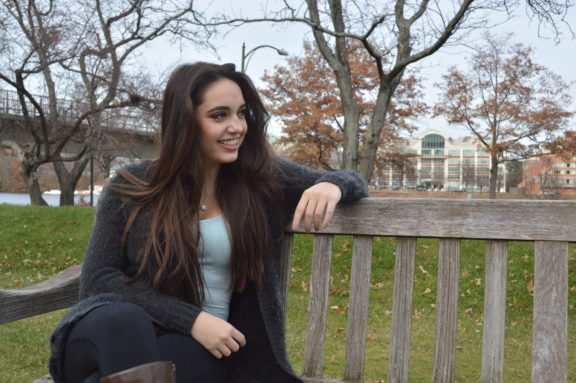 Starnes is also a member of the sorority Alpha Phi, which she joined last February. Currently, she serves as the Vice President/Director of Community Relations.
"My favorite part of Alpha Phi is not just the friendships and connections you make with the girls in the sorority, but with other chapters as well," Starnes said.
Despite her Meme Queen fame, she is still surprised when people identify her in public. "It's so weird! People say to me, 'you're the meme girl!' People usually recognize me on the bus, but it's usually not in the morning. People don't like me in the morning," she said.
"But if people are on the bus coming home, I sometimes hear, 'wait, I recognize your face!' It's weird for people to recognize me for meme-making. It's cool, though. It's so fun," she said.
The BU meme group currently has over 13,000 members since its creation on February 12th. As a staple of BU student culture, it pokes fun at every aspect of life at BU. Starnes said that while she believes the group occasionally takes the memes a little too seriously, she genuinely loves the culture of the group as a whole.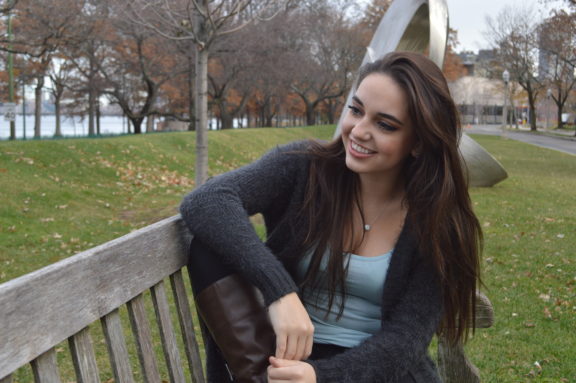 "I really like the admins. They're all chill and no bull****. They'll make fun of me, and I'm like, 'yeah, do it! You're the ones that facilitate my meme-making.' And I love Claire Tran. She's the one who approves all of my memes. She's the one to go to. And I love how people tag each other. People are really open in the comments, and it's like, we're not all going through this really hard experience alone."