We know everyone and their grandmother is talking about the debate, and it seems like everyone is always talking about the "young vote."
Why are politicians so obsessed with us?
It might be because we are a big chunk of America that, surprisingly, doesn't vote. According to Census data from 2014, out of 27,539,000 college-age citizens (between 18 and 24), only 11,611,000 or 42 percent reported they were registered to vote. And of those 11 million, only 4,721,000 reported actually voting. In other words, out of the total possible voters between 18 and 24 years, only about 17 percent said they physically put their ballot in the box.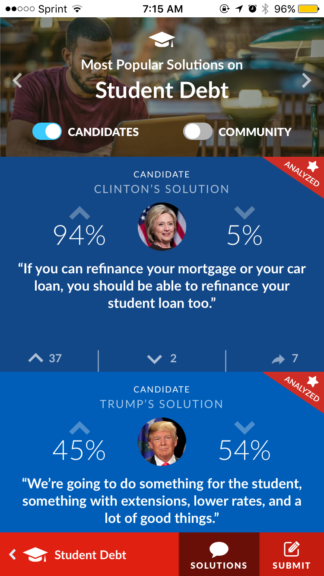 Seventeen percent is pretty low, considering the Presidential debates of 2008, 2012, and 2016 have all been held at universities. (This cycle they were at Hofstra University in New York, Longwood University in Virginia, and Washington University in Missouri.)
But that's a lot of pressure to put on college students. We're supposed to know what is going on in our country and contribute to electing the person who leads it, but most of us can't even legally drink yet. Never fear – BU is making it easier to participate.
Tom Fiedler, Dean of the College of Communication, helped create INVOLVD, a smartphone app for those that are interested in politics and want to find a way to get, well, involved.
"We know younger users prefer information on smart phones and are used to sharing information on a platform on their cell phones," Fiedler said. "We could've gathered the information and put it in written form, but we know that is not the preferred media with young voters."
What makes this app different than other apps, Fiedler said, is the quality of research and analysis of proposed candidate solutions, which is done in partnership with The Conversation, a nonprofit media outlet funded by public and private universities (BU is now an official paying partner). After absorbing and studying and analyzing, a user can even offer their own solutions to share with candidates and other users.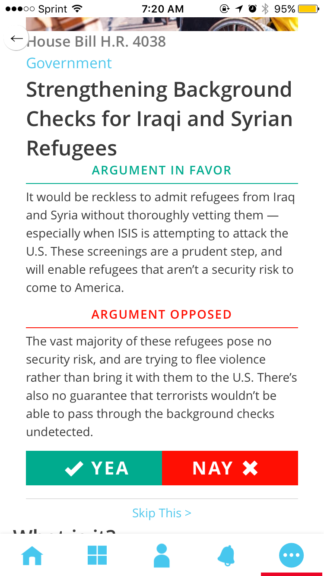 "We were hoping to bring to voters carefully developed information to allow them to evaluate the position of two candidates," Fiedler said.
There are an assortment of political smartphone apps on the market if you're looking to get your fix. Countable takes users even further into the political process and lets you break down legislative bills and contact your reps, while Voter lets you take a quick Tinder-like quiz to help you determine the candidate your views most closely align with (swipe right if you're for, left if against).
Or, if you're more of a people-person, you can get involved on campus.
BU has a club for whichever way you lean. Lean left? Check out the BU College Democrats, with weekly meetings that focus on policy issues.
With what Victor Vuong, President of BU College Democrats reports, it doesn't sound like the turnout will be 17 percent this year.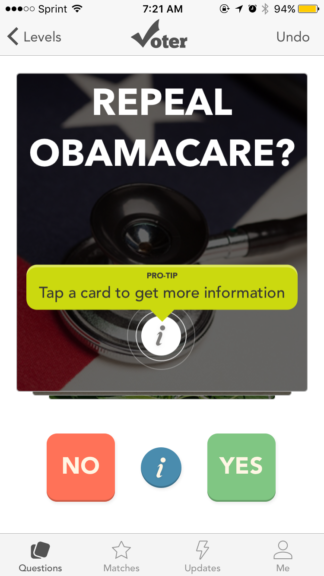 "Students may not necessarily dislike politics but it might not be their prerogative in favor of another activity, hobby, or passion," Vuong (CAS '17) said. "However, it hasn't been difficult to engage students this year. Students intuit the importance of this election in particular and have responded accordingly."
Or if you lean right, try BU College Republicans, who host biweekly meetings and have a lecture later this semester that will be led by Katie Pavlich of FOX News.
Corey Pray (CAS '17), President of BU College Republicans, said that the campus has become more politically involved over the years.
"I think there is often an assumption that young people don't know enough or don't care yet about politics," Pray said. "But this simply isn't true, and I think we will continue to see an increase in political activism on campuses across the country."
Jake Reiser (COM'17) is the communications director of BU College Republicans.
He said during this election, people are often either turned off from politics completely, or are all in for a certain candidate.
"What can be challenging is the people who fall into neither category, who either haven't made up their minds or are a part of a political party but don't want to vote, so keeping everyone as engaged as possible, regardless of their political affinities this election, can be both easy and difficult," Reiser said.
If you are one of those people that don't fall into either political party, try Electoral College, a non-partisan political party on campus that gathers forms, provides stamps, and gives out flyers with info on how to register to vote or request an absentee ballot.
"We position ourselves as a resource," said Annie Porter (SAR '18), Treasurer of Electoral College. "First and foremost, we're there to help students."
"What we've found when it comes to political involvement, especially at this young age where individual political ideology is developing, is that students are asking 'how do I get involved?' rather than 'should I get involved?'" said Eve Zuckoff (COM '18, Co-President of Electoral College. "We bridge the gap between people who want to get participate and the steps needed to do just that. Once we have provided the information, we are inundated with people who are so grateful because they wanted to vote, they just didn't know how."
If you're still looking for political information, here are some of the go-tos from the people who talk politics all day in their groups:
Featured photo by Joe Hall on Flickr Commons.