For the month of October, Boston University Student Government is challenging students to use social media to show they are more energy efficient than their peers. Dorms compete as a team, and the dorm with the most points gets an ice cream party.
Paige Callahan (Questrom '16), Student Government's Director of Environmental Affairs, says in the past, Sustainability@BU has hosted the event, but Student Government has taken over and is calling on the student body to participate using social media.
Each dorm competes against the others and has its own hashtag. Students are encouraged to post on Twitter, Instagram or Facebook using their dorm's hashtag. Each post should include how you're being sustainable. For example: Elevators account for about 5 percent of a building's energy. Taking the stairs instead of the elevator is good for you and the planet. #ECYourDormHere
"It sounds like a great way to get students involved and a great way to help the environment," says Tanvi Madkaiker (CAS '19), a Warren Towers resident. "And I think good, friendly competition would do us good. It's also a good example of how we can use social media in a positive way."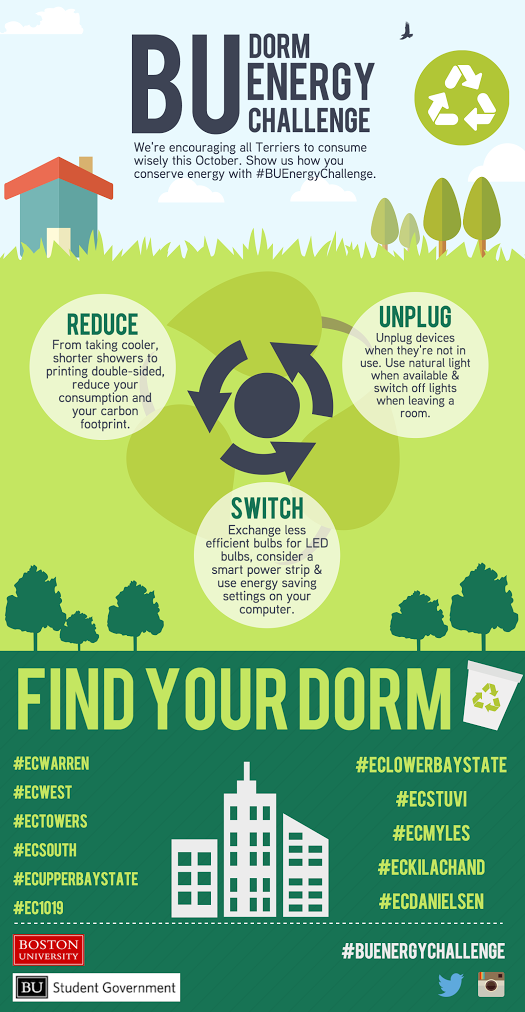 Simply tweeting or posting to Facebook about turning off the lights will earn you one point, but students can win five points for their dorm by going to a sustainable event, hosted by BU Student Government.
Some of these events include a Yoga Night (Oct 8 at 6 p.m. for Warren, Oct. 22 at 7 p.m. for West) and a GSU Unplugged Party on Oct. 16 at 4:30 p.m. The party will have a range of games, activities and food for students.
Student Government wants participation from freshmen to instill sustainable habits that they can take with them into the world.
Stuvi 2 resident Michaela Valentine (CAS '17) says it's a good idea to market the competition to freshman because they "are more willing to participate in new things at school."
While this is an interactive sustainable movement, Student Government consistently pushes for more sustainable habits around BU. For Warren Towers residents last fall semester, it became easier to be sustainable with Student Government's successful movement to place recycling bins on every floor. Student Government is currently working on expanding recycling to West Campus halls, as well as making printing more eco-friendly. They have already succeeded in reducing ink usage by changing usernames on the cover page to an outline.
Student Government's goal for the campaign is to "encourage students to reduce their energy consumption both on and off campus." According to Sustainability@BU's website, BU used 199,099,107 kWh last year, which is the equivalent of 380,000 60-watt light bulbs lit for a year.
Student Government is also hosting an event on Oct. 3 at 12 p.m. to teach students about green living. Ideally, this event, along with the challenge will "increase education and awareness of energy consumption, as well as what it means to live sustainably."
The campaign will be tracked via website, and @BUStudentGov will post it bi-weekly. As well as an ice cream party for the winning dorm, the best picture from Instagram or Twitter will win a bamboo phone speaker.
 So turn out those lights and unplug, BU!