"If I were to walk to the Museum of Fine Arts in Boston/Well, first I'd go to the room where they keep the Cézanne/But if I had by my side a girlfriend/Then I could look through the paintings/I could look right through them/Because I'd have found something that I understand."—"Girlfriend" by the Modern Lovers
The Cézanne still sits on display in the MFA, and these lyrics from the Modern Lovers' 1973 song "Girlfriend" probably still resonate with hopeless romantics at the Love at the MFA happenings this month.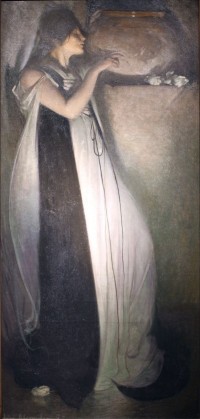 "Love at the MFA" is a series of loosely love-themed events, activities, and performances held at the MFA throughout February. Ranging from the conventionally romantic (a Flamenco concert) to the unorthodox (a screening of Stanley Kubrick's black comedy Dr. Strangelove), there's something for people at all stages of their love lives.
"We're trying to say that the MFA is a place for everyone, whether they're in love or broken-hearted," said Communications Coordinator Bobby Schrader.
In honor of Valentine's Day, the MFA staff labeled pieces all over the museum as symbols of either "true love" or "broken hearts."
The broken-hearted might like John White Alexander's haunting "Isabella and the Pot of Basil," a shadow-filled depiction of a somber woman caressing a ceramic pot. The woman in the painting doesn't have an herb fetish, but is embracing the pot containing her murdered lover's head. At least you can take comfort that your love life's not that bad (hopefully).
But the selected works are not all decapitated devotion. Some are celebrations of platonic or atypical love.
One of the museum's picks for the true love category is a red circle on a white background called "Untitled (shu-red)," by Anish Kapoor. Familial love is also on display, as in famed Boston painter John Singer Sargent's family portrait "Mrs. Fiske Warren and Her Daughter Rachel."
"No matter what situation you're in, you can relate to something here," said Schrader.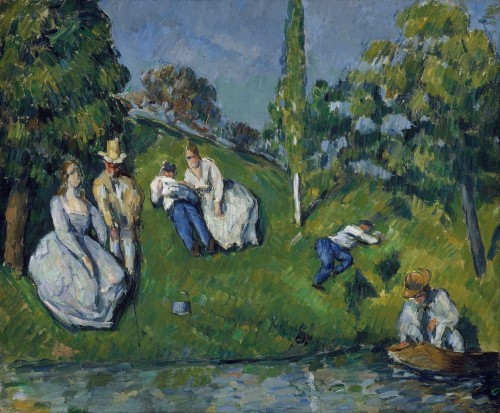 Mrs. Fiske is one of the museum's designated "Cupid's favorite photo spots," where visitors are encouraged to take selfies with the art and upload them to social media outlets with the hashtag "mfaLove." That little act of self-love gets them a 2-for-1 admission coupon to the museum for another visit during February.
Although not explicitly marketed towards students, Love at the MFA nodded to a younger crowd. Aside from encouraging selfies, its brochures boasted activities like "hug your bestie" and "send your <3."
That's just one example of the MFA's push to draw a younger crowd. In October, the museum held a college night titled "MFA After Dark". It encouraged students to come in costume and enjoy free gelato and live music while exploring the museum's spookier exhibits like "Goya: Order and Disorder." Then too the museum highlighted works from various galleries, à la the "true loves" and "broken hearts" pieces.
"We want [college students] to have fun with the collection," said Schrader.
Regardless of age or educational status, visitors can find excitement at the MFA.
"The MFA is a living, breathing place," said Schrader. "There are always things happening here."
 Who knows? You may even meet someone at the museum who makes the Cézanne clear as day.