Two weeks ago, people all over the country began protesting a Missouri grand jury's decision not to indict Darren Wilson for shooting and killing Mike Brown, an unarmed black teenager. In many places, they were joined by BU students–and a few Quad writers–home for Thanksgiving break. Here, those writers bring together their accounts of the protests to paint a picture through the eyes of BU's student body.
Boston, Massachusetts
by Andrea van Grinsven
Approximately 300 Bostonians gathered outside the Massachusetts State House to peacefully protest the Ferguson grand jury decision immediately following the announcement Nov. 24.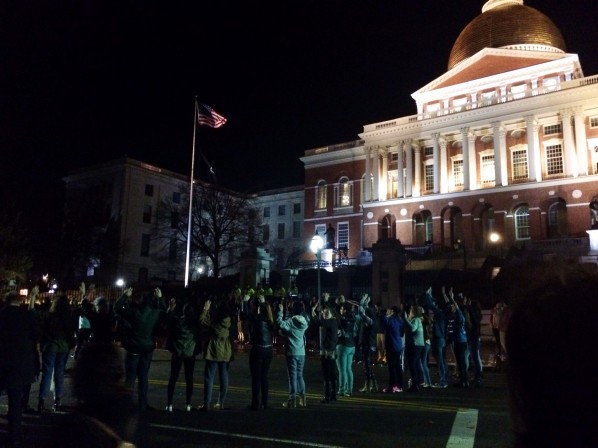 The impromptu protest began just before 11 p.m. and preceded Black Lives Matter Boston's official #IndictAmerica protest Tuesday, attracting a crowd that included many university students. The protestors raised their hands and assembled into a large circle in the middle of Beacon Street, chanting, "Hands up, don't shoot!" They continued to chant "Black lives matter" and "No justice, no peace, no racist police" as they dismantled the circle and marched toward the eight Boston police officers stationed in front of the gated entrance to the State House.
As the majority of protestors took a seat, the demonstration took on the atmosphere of an open mic, with protestors offering opinions on the Ferguson decision, performing spoken word poetry, and sharing frustrations about negative experiences with the Boston Police Department.
"I think it was great to see people react immediately. There was a real feeling of solidarity and I think that it's great that voices can be heard," said Sarah Roberts (COM '17) who attended the protest. "It makes me so angry that when a cop kills someone in instances like this that people think it's easier to justify. [Darren Wilson] took a life, and to not even be indicted for killing another person to me is appalling, terrifying, and disgusting."
Despite the solemn tone of the rally, protestors seemed optimistic about the prospect of change in Boston, expressing pride in the strong community organizing of the night and the need to organize more often and with a more united front against injustice.
New York, New York
by Carly Sitrin
It is estimated that about 3,000 people marched at different locations across New York City  the evening of Nov. 24 in protest of the Ferguson decision, creating blockades in Times Square, the Lincoln Tunnel and FDR Drive last . In Union Square, the crowd of hundreds was diverse, but students from the nearby New School and New York University made up the majority.
The protesters blocked traffic on major Manhattan roadways as they marched from Union Square down 6th Avenue through the East Village chanting "NYPD, KKK, how many kids have you killed today?" Drivers trapped in the stream of people honked in support, raising their arms aloft in a sign of surrender. At one point, two young men in red sports coats knelt over an American flag spread out on the ground. They debated loudly whether or not to burn it. But for the most part, the march was peaceful and the NYPD stationed officers at busy intersections to stop traffic and allow the protesters to pass. The police department reported only five arrests by Wednesday morning.
"I was surprised by how peaceful it all was," said Emily Hwang, 20, a student at The New School. She emphasized the feeling of sincere community that was emanating from the crowd despite the fact that the protesters were of all ages and ethnic groups.
"Now, I just wish our classrooms were as diverse as our protests," she said.
Carly took audio recordings from where she stood at the protest in New York.
"Justice for Mike Brown"
"Hands Up, Don't Shoot'
"NYPD, KKK"
Philadelphia, Pennsylvania
by Ella Torres
Nearly 900 miles away from Ferguson, car horns echoed through the streets of Mt. Airy, Philadelphia in response to protestors' signs reading "Honk for Justice."
Tuesday night's peaceful protest and vigil began with community members standing outside of the Unitarian Universalist Church holding signs, joining in song and braving the wind chills to bring light to what they saw as unsurprising injustice.
"As history shows, it's usually a no. Especially with the Trayvon Martin case and also what happened in Ohio," said Courteney Leinonen, 25. "There was the guy just holding the toy gun in Walmart and murdered for that, so no. It's not surprising."
Leinonen stood with her husband as she held a candle.
"On so many different levels, the criminal justice system has profited off of black lives historically and presently. In this case with it, it seems like the police department was trying to more save face," said Leinonen.
Yet she wasn't hopeless.
"With the way protests are happening now with people gathering and discussing it more, I think that actually not being indicted can get people to look at more cases. Say if it had gone the other way around, which would have been much better and more justice for this case, maybe people would think it's not a huge issue when it is a huge issue," she said. "That might be the positive side out of it."