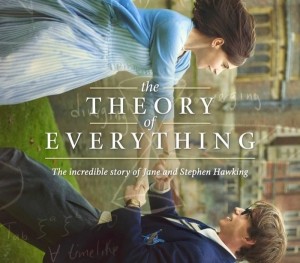 Laughs, tears, soul-searching questions, and a little self-doubt as to why you're not a physicist at Cambridge. The Theory of Everything, starring Les Miserables' Eddie Redmayne and Like Crazy's Felicity Jones, provides all that and more.
Centered around the first marriage of physicist and cosmologist Stephen Hawking, The Theory of Everything uses Hawking's Amyotrophic Lateral Sclerosis (ALS) diagnosis and his groundbreaking scientific achievements regarding the beginning of the universe as supporting characters to the film's real focus: the love story between Stephen and Jane Hawking. In fact, the screenplay is based on Jane Hawking's memoir.
That being said, it is impossible to talk about this movie without talking about Hawking's disease. Like all ALS patients, Hawking suffered from a rapid destruction of his nerve cells, affecting his brain's ability to communicate to the rest of his body through his spinal cord. To this day, this has left him dependent on a wheelchair for mobility, a computer for speech, and the people around him for most other tasks. The one thing he is still able to do for himself is think (and he's taken full advantage of that). In the film's depiction of the early stages of his disease, we see Redmayne walk with the help of two canes and talk with only a minor slur. But as the movie progresses, we see his condition get worse and worse.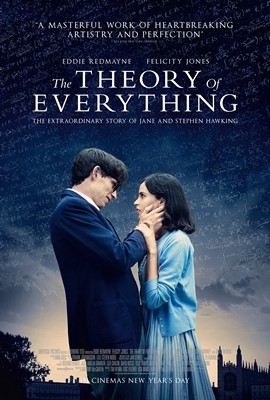 Given these extreme obstacles, Eddie Redmayne had a challenge ahead of him in portraying such a publicly disabled figure. A true testament to his superb acting skills, many of his lines toward the end of the film are delivered by a synthetic computer voice and it still made most of the theater cry! Able only to control his facial expressions, Redmayne perfectly conveys his emotions on screen in a way that most other actors only aspire to do. Given his portrayal of not just a major physical disability but also a significant speech impediment, as well as his character being a real-life inspiration, Redmayne is exactly what the Academy tends to look for come Oscar season.
Even Stephen Hawking, himself, couldn't help but shed a tear after seeing the film about his life. A Variety interview with Redmayne reports that Hawking was touched by the movie, going so far as to say that at times, "he thought he was watching himself." He even allowed the filmmakers to use his computer's trademarked voice in the film instead of a shoddy replica.
Perhaps the most refreshing part of this film, though, is that it is inspiring without being cheesy or preachy. Stephen Hawking is himself an inspiration, so the filmmakers didn't need to over-dramatize any part of his story to get that message across. Walking out of the theater you're left thinking, "If he can do all that with ALS, then certainly I can [insert thing you've been putting off here]." Toward the end of the film, at his lecture in the U.S., Hawking says to his eager listeners, "As long as there is life, there is hope."
Check out The Theory of Everything in theaters now!