It's not uncommon for people in their twenties to feel overwhelmed by the wine selection at their local grocery or liquor store. You want to try something new, but you don't want to spend money on something you won't like. You'd ask for help, but the balding guy manning the wine section seems intimidating.
Fortunately for Boston's 21+ crowd, there's now an app for that. Vinobly, a start-up founded by recent Harvard Business School graduate Emily Wang, aims to make your wine shopping experience much easier.
The app is pretty simple to use. First, it asks if you're pairing wine with a meal. If you are, it asks you to pick from a series of food categories and recommends a few wines that are available at stores in Boston. If you're looking for wine to drink on its own, the app asks you to take a palate profiler quiz. Then it recommends wines based on what it thinks you would like. You can also tell the app your price range and location for more relevant results, and you can rate the wines you've tried to keep getting better recommendations.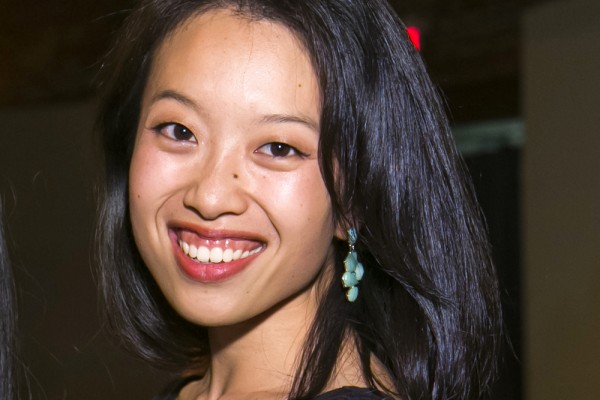 Wang grew up near a wine region in California, but she really didn't get interested in wine until she helped run HBS's Wine & Cuisine Society, inviting winemakers to campus to do wine tastings for the group. She became interested in the sommelier aspect of wine–like how experts recommend wines and pair them with food. After a while, she started competing in blind tasting competitions against other prominent law and business schools.
"People were actually pouring you wines blind," she said. "And they'll ask you things like, 'Okay, among these three, which one was from 2003?' And you know that your choices are from the last 20 years. Or they'll ask you to arrange the wines north to south."
But even though she knew a lot about wine, she still found it intimidating to stare down the wine shelf at Whole Foods.
"It doesn't really matter how much you know. There are literally millions of labels of wines in the U.S. There's really no way a normal person walks in there with confidence," she said. She realized there are other barriers to entry for people interested in learning more about wine. For example, she found that many people her age actively wanted to try new wines, but they were afraid to ask for help in-store.
Inspired by Eric Ries's lean startup mentality, Wang hypothesized that a Netflix-type model could be a good way to help people figure out what they like about wine.
"The nice thing about Netflix is that when you start, they just give you a bunch of movies to rate," she explained. "So our first idea was, why don't we give people some wines to rate, and based on what they rate we'll give them recommendations."
She started by printing out short lists of wines with stars under each variety and handing them to local storeowners, asking them to rate the wines and then hear her recommendations.
"And we realized that it totally didn't work!" she said. "With movies, even if you haven't seen Titanic, you've at least heard of it. You have some idea of whether you like it or not. But if I ask you how much you like the Oyster Bay Sauvignon Blanc, which is one of the bestselling wines out here—most people don't remember the last wine that they had, or could let alone look at a list of wines and say, 'I like this one, I don't like that one.'"
Wang's team worked on refining the app, doing similar tests to find out what worked and what didn't. The app's current, simpler design was launched in September. It includes wines between $5 and $50 and will soon expand to more stores in Boston.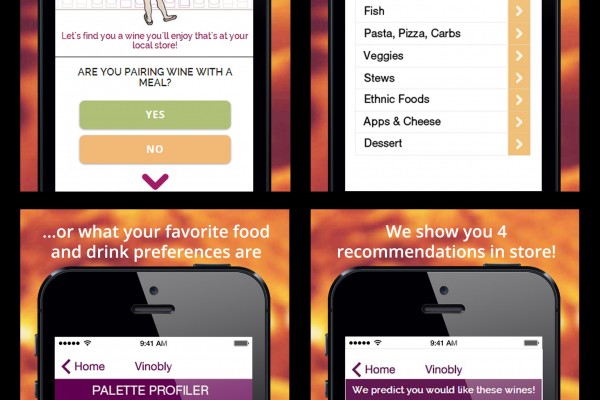 The app is designed to work even for people who don't have a lot of experience with wine. For those who feel they fit this description, Wang advises keeping an open mind when trying new wines.
"Because wine is so filled with jargon … unfortunately I think people will make big, sweeping judgements about what they don't drink," she explained. "'I don't drink Malbec, I don't drink Pinot Grigio'—but come on! You might actually find one that you like."
For those looking to save money, she also recommends not buying wine at restaurants. She says blind tasting at home with friends–each person brings a $10 bottle and puts it in a paper bag–is not only a cheaper way to try new wines, but it forces everyone to keep an open mind.
I couldn't help but ask Wang about her favorite bottles of wine for $10 or less.
"That's easy!" she said. "Trader Joe's carries some great stuff. My favorite white under $10 is actually a private label that Trader Joe's exclusively sells called Black Mountain. The Black Mountain Sauvignon Blanc is actually really good, and it's $7 or $8. And then I think the Bogle range of wines are all under $10 and they're always consistently good. And there's this winery called Castle Rock that has a great $8 Pinot Noir."
And her favorite bar in Boston?
"Drink!" she said. "The bartenders are so cool there, it's just such a great place to discover new drinks. I feel like it's one of those places where even though I know very little about cocktails, they never make me feel stupid."
In fact, she thinks the wine business could learn something from the trendy Seaport bar.
"I'm a big proponent of people who are masters of their craft being very generous and welcoming to people who are not masters, versus being judgmental," she explained. "And that's part of the goal of Vinobly–to help move wine in a direction that's less judgmental."
Vinobly will soon expand to a number of grocery and liquor stores in the Boston area, including The Wine Press, Star Market in Back Bay, and the Trader Joe's at Coolidge Corner. The app is currently available for iOS and Android.