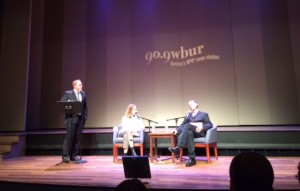 With her recent firing from the New York Times, former executive editor Jill Abramson can speak her mind freely now.
Her candid remarks on Monday night at Boston University made for a stimulating conversation.
At BU's Tsai Performance Center, Jill Abramson spoke with friend and former colleague David Carr, NYT's culture and media critic and BU professor on the changing landscape of media.
Abramson and Carr's conversation revolved around current news like Ebola, ISIS, Edward Snowden, and everything from cable television to Abramson's recent firing from the NYT to teaching aspiring journalists.
The future of journalism was (of course) talked about at length. Carr sees major changes in traditional journalism that will affect us all in good and bad ways. He believes that newspapers will use web as their primary vehicle. At the same time, he admits he has no clue about the future medium.
Carr said that change comes very slowly and then happens all at once — as seen with cable television and HBO's recent announcement of offering standalone streaming service so viewers will no longer have to pay a TV subscription for HBO programming (which he discusses in depth in Monday's article.)
While change may sound good, sometimes we are "being thrown by a ferocious news cycle," said Carr. More and more of what we know is happening through Facebook and Twitter, but unlike with newspapers, Carr said that these sources don't exactly point at what is important and why.
The Ebola outbreak, for instance, is fully covered but not necessarily in the best way. Abramson thinks there is an overreaction because only two people are sick and one person has died in the US. She said that the media is not covering the disease — the media is covering the disease coming here, which misses the point. She went so far as to call it a "disgrace."
While Abramson agreed with Carr that profound changes are coming quickly, she said print is still intellectual and interesting. She told a story about reading the New York Review of Books and being reminded how enjoyable reading can be.
"Print is where one person can land and change the boat," she said. She pointed to recently passed Ben Bradlee of the Washington Post and called him the "bravest editor of the Watergate scandal."
Abramson has a long list of her own accomplishments: graduating from Harvard, gracing top positions at major publishing companies, and being the first female executive editor of the New York Times.
And she doesn't plan to stop breaking new ground. During the conversation, Abramson announced that she plans to venture back into writing.
Abramson is currently pitching a startup news organization with founder of CourtTV and American Lawyer magazine Steve Brill. Their vision is an organization that allows journalists to write stories and still make a living income.
Abramson explained they are not trying to start a whole magazine or a website but to produce a discrete number of great pieces. She would recruit writers, edit, and help conceptualize the stories. (Of course, when she made the announcement someone next to me whispered, "Put that on Twitter now!"–talk about viral news.)
Abramson and Carr have both put daily journalism in the backseat for now to share their expertise with students. Abramson, who has taught at Princeton and Yale, is now teaching a course on journalism in the English department at Harvard. David Carr is the first Andrew R. Lack Professor of Journalism at BU.
"Worrying about the next generation is a waste of time," Carr said. All his students, he said, are serious about their work.
Abramson agreed. She enjoys reading her students' work while also being their editor. "Here at BU and Harvard, we are so privileged to be teaching the brightest students of our country."